By Ankit Somani, Co-Founder
We recently had the opportunity to attend an exclusive summit for Consero's Talent Acquisition and Management leaders in beautiful Pasadena, CA. It was an enlightening opportunity to connect with 50+ progressive HR leaders, learn about their challenges, and share views on how technology can help solve them.
After few days of in depth one-on-one sessions, facilitating panel discussions and even playing blackjack together, a few common themes became immediately clear.
"Shiny objects are great, but let me get the basics right first"
At least 40% of folks were busy with more basic foundational efforts, like setting the talent acquisition organization structure right. For example, advice to not ask HR Business Partners to lead sourcing, screening, or scheduling interviews due to conflicting priorities of near-term business goals versus long term sustainable recruiting. There was a robust discussion on setting the right recruiter incentives to enable focus on retainable candidates rather than rush to fill the requisitions. There is a clear pent-up need for basic analytics to manage hiring performance and identify improvement opportunities.
"My challenges are different – one size doesn't fit all"
Diverse challenges require custom solutions. However, there are some common threads across these diverse challenges.
For large corporations, sourcing is relatively easy – strong brand and rich database of resumes in the applicant tracking system (ATS) helps in finding talent. However, they generally struggle with poor candidate experience, low recruiter productivity, and ability to scale up and down with business demand. For example, a large retail bank has millions of resumes in their ATS but struggles with finding the right talent at the right time and the right cost. The situation is the opposite with smaller companies that provide a high-touch personalized experience but struggle with lack of brand to attract talent. Regardless of company size, talent acquisition leaders deliberately select a "sweet spot" in the recruiting experience spectrum ranging from transactional to delightful, based on their brand values.
"This looks fantastic. Let's catch up in Q3 2019"
The urgency of new technologies goes head to head with budget cycles, IT team involvement and legal reviews. The solution providers who will win will address a top of mind need, provide a value based sale so that ROI is clear, and an easy to deploy solution with least friction.
"We want AI …What is it by the way?"
AI has a branding problem. There is a lot of interest in it but a dearth of understanding of what it is at its core and what it can do. Most leaders immediately make the mental leap of comparing it with some equivalent of Terminator (including the risk of what functions it makes obsolete). We enjoyed the rich discussions on demystifying AI and its role in recruiting. The best analogy that describes the current state is of iRobot's Roomba – helpful utilitarian cleaner that does niche tasks that are better off automated. Taking one-step-after-another, is what needs to be happen to drive an eventual transformational change.
Thank you to Consero for inviting us to attend the event. We had a great time chatting with industry leaders about A.I. recruiting 2.0. Looking forward to a great Consero 2019!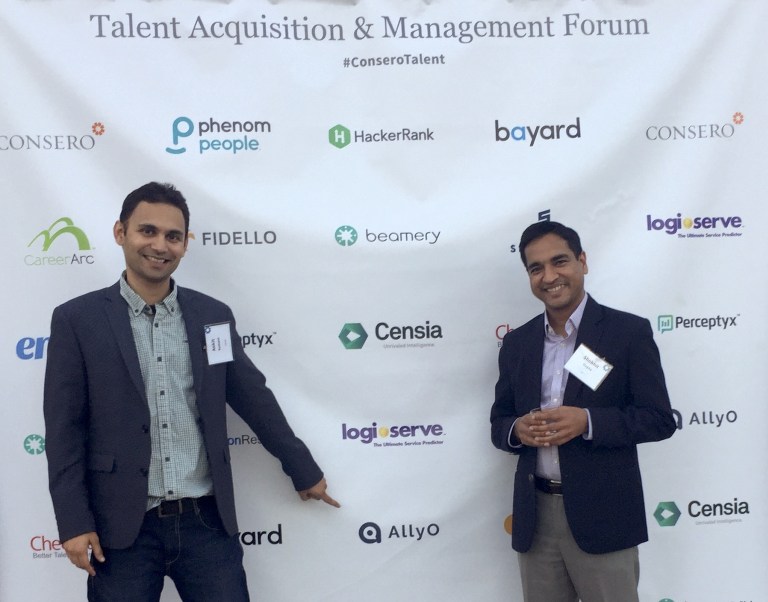 About AllyO
AllyO is an AI technology company based in the Silicon Valley. It was founded in 2016 with a a simple mission – make recruiting delightful and efficient for everyone. It addresses the traditional inefficiencies of lost applicants and conversions due to poor candidate experience, high cost of recruiting due to overburdening of menial tasks on hiring teams, and lack of visibility and control for HR leadership. It utilizes deep workflow conversational AI to fully automate end to end recruiting workflow by intelligently engaging via texting over mobile and web. It is used by Fortune 500 enterprises that have experienced 2-6X increase in applicant capture and conversion rate, 91% application completion rate, and over 50% reduction in cost and time to hire. AllyO is backed by leading investors such as Google, Randstad Innovation Fund, Bain Capital Ventures and Cervin Ventures.