4 Ways Intelligent Software Can Be A Staffing Agency's Competitive Advantage.
The staffing industry is expanding twice as fast as the economy. But thanks to candidate shortages and a yawning skills gap, success is in jeopardy.
Demand for talent is still exceeding supply — and the staffing industry's longstanding and increasingly problematic top-of-funnel crisis is being exacerbated by a growing skills shortage.
Not to mention, near-record high quit rates mean that even job orders successfully converted into placements are the reason for short-lived celebration, especially in an industry with astonishingly low redeployment rates.
And to further complicate matters in an already challenging hiring landscape, staffing firms are anticipating flat or decreasing margins, which means that additional headcount likely won't be brought on to furnish rapidly increasing client needs.
In short, where there was barely time immediately post-recession for tedious resume review and unscalable outreach, amidst today's near-record-low unemployment rates and increasing wage growth, staffing agents can't afford to waste even a minute on low-value administrative tasks and practices that don't cultivate a positive candidate experience.
The good news is that more and more agencies are investing in AI technology as a strategic approach to addressing these problems.  Where once feared, intelligent software is more readily being acknowledged as a way to augment and complement the human workforce and achieve the efficiency and engagement fundamental to driving revenue and outpacing competitors.

Source: Korn Ferry Global Survey: Artificial Intelligence (AI) Reshaping the Role of the Recruiter
#1 Find Plenty Amidst a More Acute Talent Shortage
Employers' hiring intentions are the highest they've been in over a decade, yet the unemployment rate remains at a near record low.  
Such a glaring dissonance means that staffing firms simply aren't receiving the volume of candidates they need, let alone the number of qualified candidates necessary.
While far from a new dilemma, the talent shortage is more acute than ever, and it's become critical that agencies not only effectively engage candidates with the right skill sets early on, but that they do so at scale — and within budget.
AI technology, like AllyO, isn't a sourcing silver bullet, but it does offer staffing firms the opportunity to leverage low-cost talent acquisition tactics to build out a more robust and up-to-date pipeline, rediscover candidates in existing talent pools, and roll out an expansive referral system.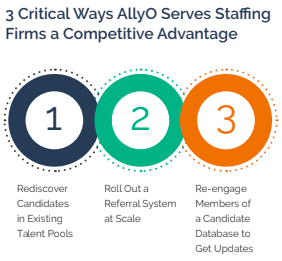 How It Works:
AllyO uses AI-enabled applications to connect with members of an existing ATS, candidate database, or company Listserv via email or text message – and at scale. Staffing firms can customize outreach messages to thousands of people at once, calling on staff members to make referrals, gauging candidate interest in a role, or building employer brand. Then AllyO's natural language processing chatbot technology can continue the conversation and move the right people through the applicant funnel quickly and efficiently.
With AllyO's modern and scalable way to engage candidates — combine email outreach with natural language-based and multi-lingual webchat, Randstad experienced a much higher engagement rate and faster results. Within 4 weeks, AllyO contacted over 1.6M profiles and uncovered 12,500 new active job seekers!

-Rita Sposato, COO Randstad Canada
#2 Automate Low-Value Tasks & Boost Candidate Experience
Recruiters are still spending more than 80% of their time on low value-add activities that can be easily automated, like scheduling interviews, conducting basic screening and background checks, and performing menial administrative tasks.
To further exacerbate matters, the little time that remains is largely monopolized reviewing resumes from unqualified applicants.
Apart from consuming valuable time that could be spent on business-critical pursuits, spending too many hours on these poor-ROI activities translates into a greater risk of rushed staffing agents making poor hires, which can cost a company thousands.
For years, smarter HR technology has been automating many of these menial responsibilities, but with truly intelligent software, recruiters can now seamlessly streamline these non-cognitive tasks without sacrificing the distinctly human touch that's pivotal to nurturing and maintaining positive candidate experiences.   
8 Tasks Truly Intelligent AI Software Can Automate
Candidate Pre-screening

Candidate Skills Assessment

Candidate Background Check

Resume Assessment for Job Fit

Interview scheduling

Interview rescheduling and cancellation

Pre-interview Reminder Messaging

Post-interview Follow-up Messaging
AllyO Helps Staffing Agencies Banish the Black Hole
AllyO's natural language processing-enabled system can support 1000 concurrent conversations simultaneously. So, if every job selection, screening and scheduling conversation is ~5 minutes, the solution can support 12,000 conversations per hour or 288,000 conversations in a day. That saves staffing firms the work of 9600 recruiters assuming each recruiter can speak to 30 people in a day. And it means that it's possible to respond to every single candidate, around the clock.
#3 Reach Candidates In Real-Time & Close Leads Faster
In a tougher hiring landscape and a more competitive staffing industry, the need for speed is more critical than ever. Timing and efficiency, especially as it pertains to connecting and communicating with candidates, are often the differentiating factors between fast-growth and slow-growth staffing firms.
Outreach and candidate communication techniques that rely primarily on phone calls and email simply aren't swift enough—nor do they engage applicants where they want to be engaged. Staffing agencies that truly want to excel know that real-time text messaging is the key to successfully keeping leads warm and moving through the applicant funnel.
Luckily, the advent of AI-enabled chatbot technology, like AllyO, has made it possible to both respond to thousands of candidates in real-time (and around the clock, 24/7) and to create a distinctly delightful and very human experience, thanks to natural language processing and conversational psychology.

#4 Boost Redeployment Rates And Revenue
Job quit rates hit a 17-year high in 2018, with half of workers departing for greener pastures in the first 90 days.
Yet, half of staffing firms fail to redeploy more than 25% of candidates after initial placement, with far fewer agencies even tracking this metric. It goes without saying that this group of job hoppers is far easier and far cheaper to engage than new candidates, assuming that they had a positive experience the first time around.
In short, agencies failing to capitalize here are missing a massive opportunity and a serious chance to positively affect the bottom line.
But thanks to AI technology, it's easier than ever to not only build a trusting relationship with these candidates, but also to gauge their satisfaction level with the work the first few months, possible predicting and then helping them prepare for a job hop or a second placement at the end of assignment.