How Pitney Bowes Boosted Talent Acquisition by Partnering With AllyO
About Pitney Bowes
Pitney Bowes (NYSE:PBI) is a global technology company providing commerce solutions that power billions of transactions. Clients around the world, including 90% of the Fortune 500, rely on the accuracy and precision delivered by Pitney Bowes solutions, analytics, and APIs in the areas of e-commerce fulfillment, shipping and returns; presort services; office mailing and shipping; location data; and software. For nearly 100 years Pitney Bowes has been innovating and delivering technologies that remove the complexity of getting commerce transactions precisely right.
Today's Recruiting Struggles
In order to lead complex global logistics programs and keep up with increasing client demands in a rapidly growing economy, Pitney Bowes needed a way to capture, engage, and hire more employees with speed and efficiency. This need was particularly evident in the light industrial sector, namely Presorter professionals who manage various functions at warehouse sites across the U.S.
AllyO AI Recruiting Solutions
AllyO worked closely with Pitney Bowes Talent Acquisition team to understand the client's specific process workflow and candidate behaviors, and delivered a unique solution that meets the following needs: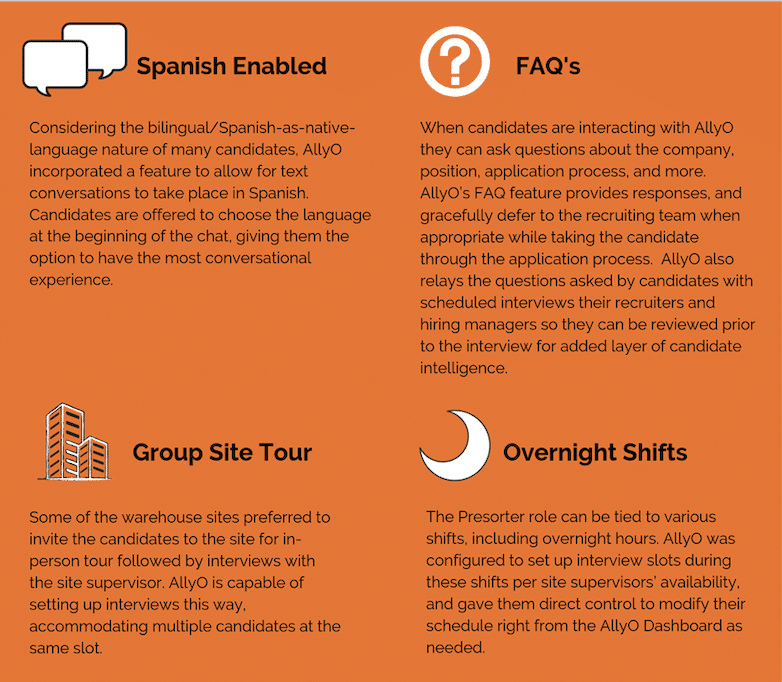 How AI Recruiting Tech Can Help
Pitney Bowes aimed to leverage AllyO's AI recruiting technology to:
Increase applicant capture

Increase recruiter efficiency through automation

Deliver an engaging candidate experience

Ultimately, increase hires and reduce time to fill
Partnering with AllyO decreased time to interview from 40 days to 28 and time to hire from 57 days to 45. Pitney Bowes also received a 91% positive candidate experience rating.
Learn more about how AllyO's AI technology can be customized to fit your company.