For retail recruitment leads, the real nightmare before Christmas plays out every October, when high-volume seasonal holiday hiring needs stretch resources and infrastructure thin amidst intensifying pressure to deliver a plug-and-play instant staff.
In 2018, strong consumer demand, soaring sales predictions, and record-low unemployment rates added a new eerie element to the recurring bad dream: stores desperately needed more personnel to service eager customers who benefited from long-awaited wage gains, yet there was a glaring talent shortage to contend with.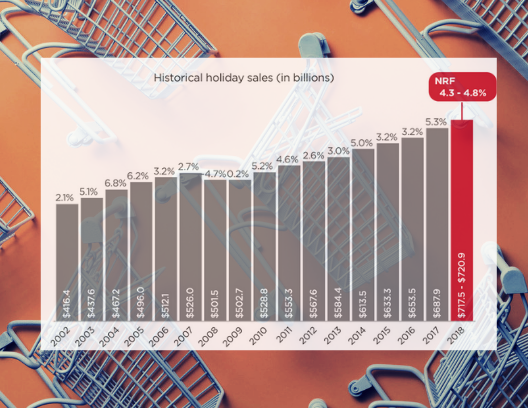 Source: National Retail Federation
For even the most skilled general managers and retail recruitment higher-ups, the challenge was severe. And with the economy continuing to roar and no sign of faltering consumer confidence, the stakes look to be even higher in 2019.
Not to mention, the National Retail Federation reports that roughly 40% of consumers are starting to do their holiday shopping as early as Halloween, which means the seasonal hiring burst is turning into more of a long haul.
It's not all coal in the stocking though. Companies adequately prepared to implement a robust seasonal hiring strategy can quickly and efficiently staff up at scale, ensuring shelves are stocked and smiling salespeople are at the ready to greet big spenders and take advantage of increases in buying power.
Here are seven simple ways to ready your team for crunch time — without burning out or burning through your budget.
A Better Seasonal Hiring Strategy: 7 Simple Ways to Staff Up
#1 Start early
Starting your seasonal hiring push early is no longer just an easy way to get a head-start on the competition; it's a necessity that very much affects the bottom line. With holiday shoppers filling their carts from October, it's critical to begin recruitment efforts well before Black Friday and Cyber Monday — possibly holding over back-to-school season hires through the new year.
"54% of American completed their holiday shopping by Cyber Monday" Source: TrendSource
Starting earlier also provides a longer training window, which means the staff you do have in place will be better prepared to provide a stellar customer experience when it counts.
#2 Make seasonal rehires
Rehires are the cost-saving, low-hanging fruit of the holiday hiring world. The hiring process itself is shorter and more efficient thanks to the fact that you already have much of their information on file, and it takes these former workers less time to reach full productivity than newbies, as they're already familiar with many internal processes and systems.
By some estimates, rehiring past employees can save up to 50% of hiring costs — and these workers tend to be 40% more productive.
The trick, of course, is reaching out to these workers at scale. Manually moving through your database, individually contacting these potential candidates, and then managing conversations with each and every one of them is tedious and inefficient. But with AI-powered technology like AllyO, it's quick and easy to conduct proactive outreach and then move qualified and interested candidates through the funnel.
The end-to-end recruiting solution leverages texting capabilities to contact could-be future workers at scale, and then using a mix of natural language processing and conversational psychology, it's able to have thousands of discussions at once — sending application links, answering candidate questions, and even scheduling interviews.
#3 Convert in-store customers to candidates
              
 

There's no easier way to expand your applicant pool than by transforming the people who already know and love your brand into the people selling and promoting your products.

Again, with the right technology in place, it's easy to operationalize this process, both to those perusing the aisles of your brick-and-mortar shops and those cruising the online shelves of your eCommerce sites.

AllyO makes it easy in both cases. For in-store shoppers, simply make them aware that they can text-to-apply, and AllyO can handle the rest: collecting relevant information, conducting pre-screening, and more. For virtual customers, the technology's chatbot overlay can be rolled out across a career site, prompting visitors to apply for open roles without interrupting user experience
#4 Get creative about perks and benefits
After years of sluggish wage growth, workers finally benefited from sizeable increases between 2017 and 2018, and to keep pace with the rest of the economy and attract employees in a full labor market, many retailers hiked their pay rates accordingly – particularly for holiday hires.
Beyond boosting wages though, those who really want to attract seasonal workers will go the extra mile, offering perks and benefits that differentiate them from the competition. Here are a few icing-on-the-cake instances that may very well swing candidates your way:
#5 Streamline your screening process
With more than 50% of applicants lacking the basic qualifications for the jobs they're applying for, it's no secret that it's a huge timesuck weeding out poor candidates. This reality is even more stark in the rare case when retail recruitment leads have an overwhelming flurry of resumes to review.
During the seasonal hiring push, recruiters don't have time to waste evaluating even one unqualified application. And they also can't risk making a bad hire because too little time was spent appropriately vetting a person.
Luckily, there's a simple solution to this problem: automate your screening process.
AI-powered entities, like AllyO, make it easy to knock out candidates who can't meet deal-breaking requirements as well as those who simply don't have the skills and experience you need. The technology completes both of these tasks by asking candidates a series of questions and conducting skills assessments in real time (24 hours a day, 7 days a week).
What's more, it shortens the funnel and can move a candidate from application to interview in a matter of minutes by eliminating the need for a resume entirely; after all, this document is often a barrier to entry for many candidates as well as an unnecessary document for those hiring blue-collar workers that don't need a high level of education or past experience.
#6 Automate interview scheduling
An even more low-value, tedious task than reviewing subpar resumes, the back-and-forth of interview scheduling can comprise invaluable time that could be spend on more business critical jobs. Not to mention, a manual approach to this task can also spell disaster for your candidate experience – as it's nearly impossible to respond to every single communication in a timely manner when dealing with high volume recruitment.
Hiring teams that want to optimize their strategy during the chaotic holiday season can, again, turn to technology to address this problem. AllyO, among multiple other service providers, can sync with multiple calendar applications and individual schedules to find time slots that align with everyone's schedule. What's more, thanks to natural language processing abilities, it can converse with candidates via text message and in real time to arrange these interviews, eliminating back and forth.
And finally, it's simple to automate reminder messages and complete reschedules, both of which improve "show" rates.
"Recognizing a shift in candidate engagement behavior away from picking up the phone to text messaging required an upgrade in our recruiting tools, and the outcome of adopting an interactive nature of conversation recruiting transformed our conversion of applicant to hire by 3X" – Dorothy Martin, a talent acquisition operations consultant at Michaels.

"By working with AllyO, we were able to automate the process of qualifying and scheduling candidates with the hiring managers. A process that previously took 6-7 hours per week for managers to accomplish was now automated by AllyO, freeing up hiring managers time to focus on other important tasks at hand. " -Trisha Steward, Manager, Centralized Recruiting at Speedway
Seasonal Hiring Strategy: Key Takeaways
Just as a retailer's ability to digitally transform their sales and supply chain processes has been a critical indicator of a business's success, those organizations that harness the power of technology to support not only their seasonal hiring efforts – but their year-round recruitment strategy – will find themselves staffing up quickly and with higher quality hires.
Read more about how an AI-powered solution is automating poor value recruitment tasks, improving candidate experience, and simplifying high-volume retail recruitment.