The Gen Z Restaurant Workforce
Gen Z employees already make up an astounding percentage of the restaurant workforce, and in the coming years, this fiercely independent population of digital natives will only continue to dominate the ranks of restaurant back- and front-of-houses.
Sixty-one million potential hires, to be exact, will enter the labor market over the course of the next decades, and those restaurant leaders poised to appeal to this generation's core behavior patterns and motivations will find themselves with a competitive advantage when it comes to tackling the dire state of hiring in the industry.

What follows is a breakdown of three elements that define these young people – and a breakdown of how general managers and talent acquisition leaders alike can develop best fit recruitment and hiring strategies.
Texting is Everything
Gen Z is the first generation of true digital natives: watching movies on tablets as toddlers, connecting via social networks with strangers they may never meet in their teenage years, and generally expecting internet access to exist everywhere and all the time.
It also means that they've had a mobile device as early as elementary or middle school, and even more notably, that texting or messaging apps is the number one way they prefer to connect. In fact, 60% would prefer to leave their wallets at home over their phones.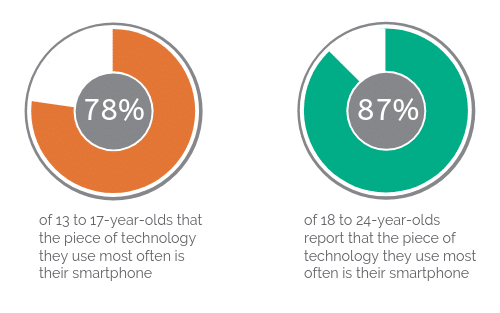 Source: Generation Z: New Insights into the Mobile-first Mindset of Teenagers
What does all this mean for hiring and recruiting professionals tasked with staffing up restaurants in the midst of a challenging labor market? That texting is everything (as these teens would be quick to tell you).
Whether urging new candidates to apply for open roles, conducting outreach to your database about potential jobs, alerting applicants of upcoming interviews, or even checking in with recent hires about their first few weeks on the floor, talent acquisition and human resources teams need to be utilizing texting technology to reach this generation where they want to be reached.
And beyond just giving this instant gratification population what they want and how they want it, making the choice to use texting technology just makes better business sense. Open rates and response rates are considerably higher than any other channel and read times are far less.
Translation: you can move candidates through the funnel faster, ultimately decreasing that all-important time-to-fill stat.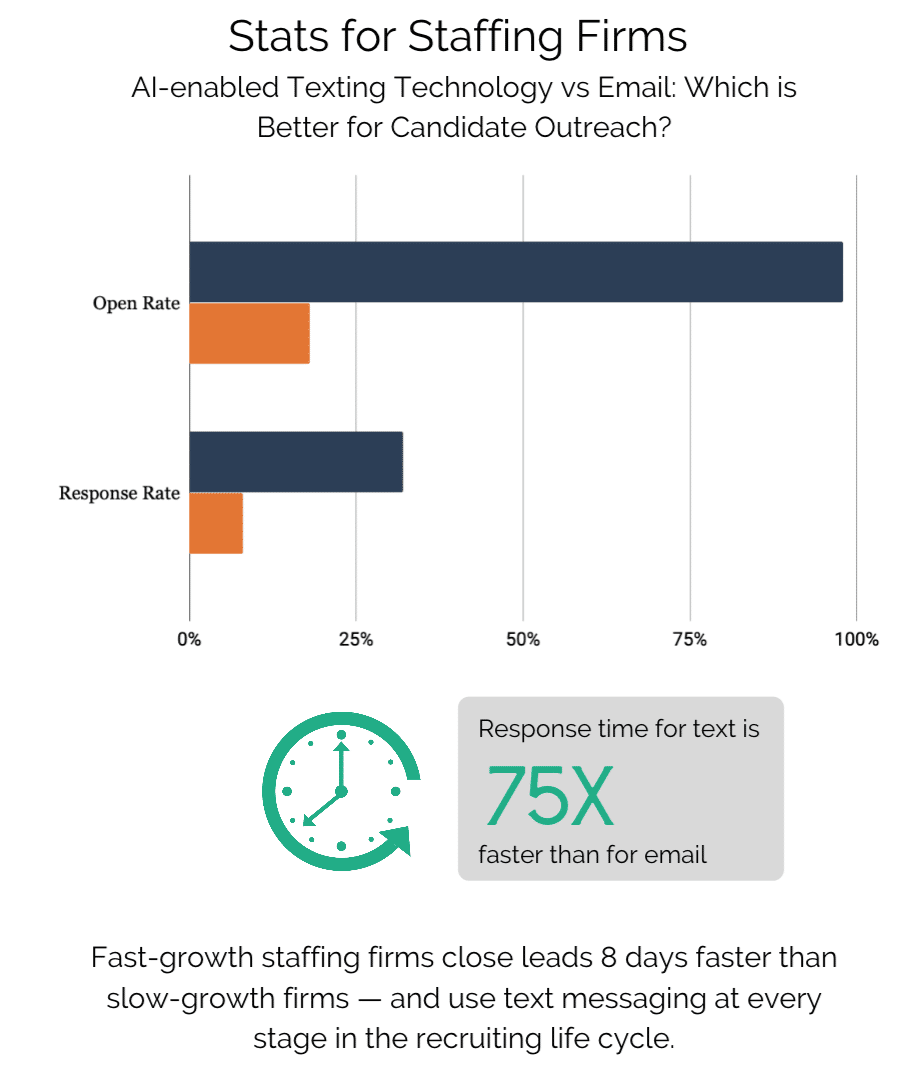 Those who want to take it one step further and truly scale their recruiting operation can opt for a solution, like AllyO, that pairs text message outreach with the power of artificial intelligence.
This kind of software not only allows you to automate a large portion of the communication you're sending out via SMS or WhatsApp, it also has the ability to leverage natural language processing to engage in conversation with recipients.
Here's what AllyO can help you accomplish via intelligent mobile recruiting:
Gen Z customers or walk-ins can text to apply for open roles on the spot

Recruiters can send job application links via text to their database en masse

Managers can contact staff quickly and efficiently to cover shifts for no-shows

Gen Z candidates can move from application to interview in minutes thanks to pre-screening via mobile conversation

Gen Z interviewees can schedule their face-to-face with managers via SMS

HR professionals can set automated check-ins with new Gen Z hires during those critical first few weeks
Instant, All-the-time Access is On Point
Gen Z members have never known a world without the internet, and accordingly, they're more dependent on it than any other group, with 22% saying they couldn't even comfortably go a full hour without online access.
They're used to getting directions to unknown places instantly via a maps app, finding the answer to the most obscure questions in seconds or less, and purchasing nearly any product under the sun in fewer than three clicks.
This round-the-clock availability paired with their much-discussed limited attention span (it's a mere 8 seconds!) means expectations are high and time is of the essence.
In short, it's critical that restaurant recruitment leaders commit to a simpler, more seamless application process, technology that can deliver real-time responses to candidate questions, and a hiring lifecycle that's shorter and more agile.
The good news is that with the right end-to-end AI software, there's no need to increase staffing resources or overextend current workforce to meet these demands.
More specifically, a chatbot-meets-mobile recruiting solution like AllyO is online 24 hours a day, 7 days a week — at the ready to field queries about perks and benefits, process late-night applications, and arrange interview times.
What's more, with a foundation rooted in conversational psychology, the AI solution can also effectively pre screen candidates in real-time, eliminating the need for time-consuming and often unnecessary resume submission and review while still filtering out poor fit candidates based on knockout questions and skills assessments.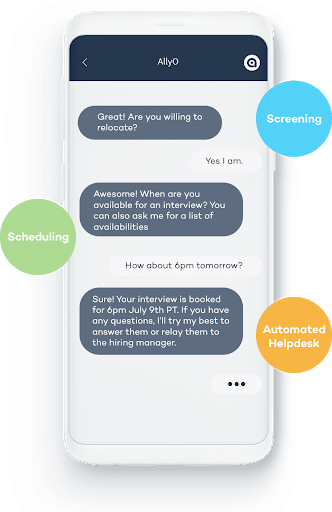 Download our eBook about AI-driven solutions to address the restaurant hiring crisis
Representation Matters
Nicknamed the 'True Gen' by a recent McKinsey study, Gen Zers are not only defined by the fact that they're the first digital natives, they're also separating themselves from their Millennial predecessors based on their commitment to the search for truth and authenticity.
That means that they're adept and ready to scour the internet and beyond for proof that brands are acting ethically and genuinely embodying company values. In the hiring and recruiting space, these youths are almost indefinitely turning to review sites to evaluate potential companies as employers as well as gauging a future place of work based on word-of-mouth reputation.


Source: National Restaurants Association Educational Foundation
Accordingly, candidate experience needs to be front and center for talent acquisition leaders.
Amidst a pointed talent shortage and more competition from parallel industries, hiring teams can't afford to lose a single promising new hire to stock-standard mistakes that could reflect poorly on employer brand.
What's more, there's simply no excuse for perpetuating the candidate communication 'black hole' or failing to shore up onboarding processes when countless technological solutions can quickly and easily automate these tasks.
Among the lot, AllyO makes it simple to deliver 100% candidate communication thanks to automatically triggered messaging, proactively scheduled new hire check-ins, and more.
Best of all, thanks to its foundational AI, the experience the Gen Z workforce gets is incredibly human-esque, which means these important future staff members will get the feedback they crave in the manner they crave it.
Last Words: Hiring & Recruiting Gen Z for Restaurant Workforce
Restaurant leaders that want to successfully recruit and hire Gen Z will first and foremost recognize that they need to develop a more in-depth understanding of this generation in order to effectively attract and onboard them. Further, it's essential to serve up the kind of experience that these future workers demand: when they demand it, how they demand it, and where they demand it.
AI-powered solutions that can support already overextended hiring resources will be fundamental in fulfilling this generation's expectations during the application, interview, and post-hire stage.
Read our full high volume restaurant recruiting ebook