Use Cases for Streamlining Your Workflow and Improving Your Effectiveness
As an HR technologist, who has been in the HR industry since 1995, I've been a proponent of Artificial Intelligence (AI) and its power to transform recruitment technology. In this article, industry leaders share how automated workflows streamline recruiting and improve overall effectiveness.
In this article:
What Is AI Recruitment?
Artificial Intelligence recruitment harnesses intelligent technology to make recruiting more efficient and effective. AI enables computers to automate tasks and solve problems that normally require humans, such as resume screening and interview scheduling.
AI excels at reducing recruiters' time spent on repetitive tasks and automating the workflow, especially for high-volume hiring. (In fact, recruiting automation was an early name for these solutions, but that label does not adequately reflect the intelligent capabilities of today's AI-powered technology.) AI apps stir the most excitement for their ability to learn and adapt, freed from rules-based thinking. This ability underpins such features as making predictions, personalization, and chatbots.
Going beyond the original HR tech like applicant tracking systems (ATS), AI-powered recruitment tech also improves the quality and effectiveness of recruiting. AI solutions can crunch huge volumes of data and recognize patterns, thereby helping human recruiters perform better. For example, AI can spot bias in job descriptions or predict which advertising platform will perform best for a particular search.  
The technology paves the way for data-driven decision making, end-to-end recruiting, predictive analytics, and personalization of the candidate experience.
Why Recruiters Need Artificial Intelligence
These technology developments couldn't come at a more opportune time because recruiters really need an edge in the hiring market. The environment is more challenging than ever for recruiters tasked with finding strong candidates, filling jobs, and securing specialized talent. 
Here is the broader landscape that recruiters face:
U.S. unemployment is at its lowest level since 1969.
Many economists expect the unemployment rate to keep dropping toward three percent.
The proportion of people who are voluntarily leaving their jobs stands at a 10-year record of 62.5 percent, a sign of their confidence in finding a better position.
Wages are rising, and employers have to compete more for talent.
The number of unfilled U.S. jobs has held above seven million since April 2018.
The number of job vacancies has exceeded the number of people looking for work for more than a year as of April 2019.
Labor shortages are hitting almost every sector, from blue-collar to hospitality, retail, and healthcare.
Skilled staff, especially with advanced technical skills and degrees, remain scarce.
Government policies make it difficult to obtain visas for foreign workers, closing off a traditional alternative for recruiters.
Recruiters report that these macroeconomic factors translate into everyday difficulties in acquiring the right talent. Seventy-five percent of recruiters say they do not have enough qualified candidates in their hiring funnel. And top talent is only on the market for an average of 10 days.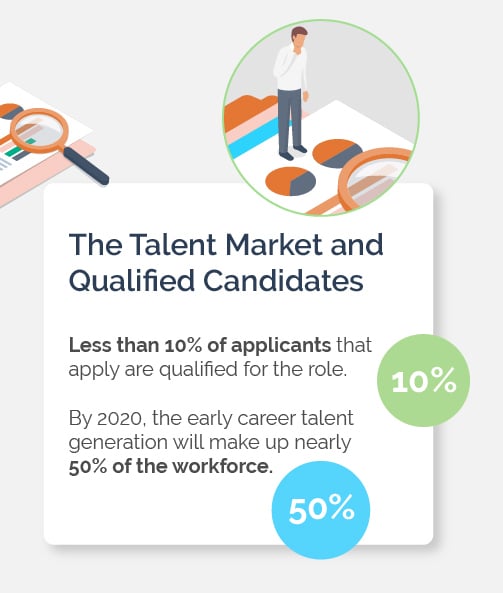 AllyO's collected recruiter productivity data that demonstrates AI is making life easier and better for recruiters:

>>>Schedule a demo to explore AllyO's recruiting automation chatbot
Key Differentiators of Using AI in Recruitment and Selection
Artificial intelligence aids recruiters in two broad ways: First, by creating efficiencies including time and money savings, and second, by enabling improvements in quality and effectiveness like more precise targeting, more positive candidate experience, and better fit hires.
"AI is going to revolutionize recruiting. We have begun down the road, but we have a long way to go still," explains Kevin Wheeler, President of Future of Talent Institute.
1. Saves a Company Time and Money
AI is especially helpful in high-volume hiring. AI can take over many repetitive tasks such as screening resumes, which many recruiters say is the most time-consuming aspect of their job when done manually. This automation speeds up hiring, and recruiters can use saved time to focus on activities that people are uniquely suited for, such as cultivating relationships.
AI can handle workforce planning — predicting how many new workers a company will need and in what roles. Within a recruiting team, AI software can intelligently balance the workload among recruiters or reallocate staff resources to higher priority hires. Efficiency translates into financial gains in the form of labor savings and reducing or shortening vacancies that impair a business.
2. Higher Quality and Consistency of Applicants
Another AI advantage is its ability to find a better quality of hire and company fit. These draw on AI's ability to gather information, analyze lots of data quickly and objectively, and make predictions or recommendations.
For example, AI applications can supplement resumes with data from public sources and social media, offering a more-in-depth candidate view. AI recruiting tools can make connections in data that might not be apparent on the surface and find strong candidates that traditional screening techniques would skip. AI recruiting solutions can also improve the candidate experience. These tools are available 24/7 to answer questions, follow up, send reminders, and provide personalized service.
Moreover, AI solutions enable recruiters to standardize the matching of candidate skills and experience to roles. A team of human recruiters is naturally a bit inconsistent from one individual to another. Even the same person might assess applicants differently from one day to the next, depending on their mood or stress level. Staffing a better fit leads to happier employees and managers, higher productivity, and lower turnover.
3. Reduces Bias in Hiring
Diversity is an important goal for most companies, and recruiters are turning to AI to combat bias. AI tools can analyze job ads or descriptions to make sure the language is non-discriminatory. Engineers can design these solutions to be blind to gender, race, sexual orientation, religion, nationality, or disability, avoiding even unconscious bias that affects people.
Companies can build a more inclusive hiring funnel and more diverse workforce. There is one important caveat, however: AI-driven technology is only as good as its programming. So, if bias is baked into the design, the software will worsen discrimination. 
Ben Eubanks, Principal Analyst, Lighthouse Research & Advisory, says that AI is the best hope for eliminating bias — if trained with unbiased data. While it is not foolproof, "AI can minimize bias beyond what humans are capable of," given their unavoidable unconscious bias. "Personal interviews are no better than a flip of a coin at predicting who will be successful," he notes.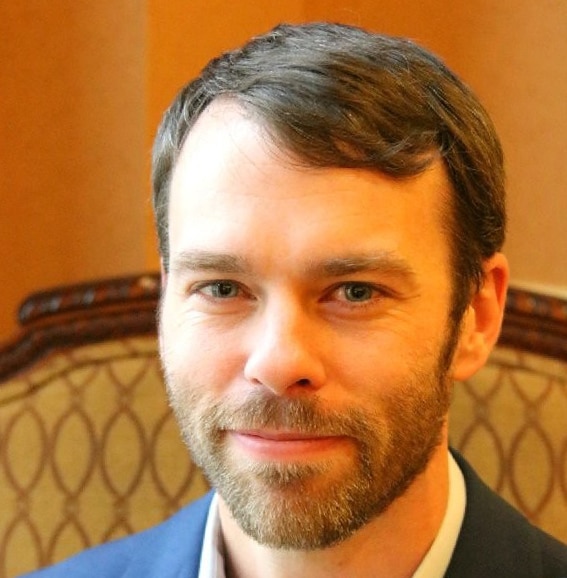 Powerful Examples for Using AI in Hiring
The recruiting process typically follows the same sequence of steps. Companies that need a lot of staff performing similar jobs, such as restaurants, factories, banks, and stores, the hiring process is likely to be highly standardized for each hire.
You can see the power of AI if you look at its application to various use cases within each phase of the recruiting process. Your time and labor savings compound while effectiveness increases.
AI Use Cases in the Search Phase
This phase of the recruiting process involves writing a job description, posting and advertising it, sourcing candidates, screening applicants, engaging with candidates, and scheduling assessments and interviews. Let's look at how AI is transforming some of these:
Brand Building: AI enables you to personalize content, so the candidate experience is highly satisfying. The technology also allows you to interpret subtle signals and trends, so that based on candidate behavior, you can present the most relevant message at the optimal time.
AI-driven Sourcing: Artificial intelligence applications broaden your search pool by sourcing candidates on social media and other websites. The technology discovers passive and hidden candidates among applicants for prior positions, identifies priority candidates, uses skills and other criteria rather than keywords to highlight top talent, and predicts the best time and channel to contact them. AI solutions can also find potential candidates in your current employees' networks.
Optimizing Job Ads: Recruiting tools that use artificial intelligence-powered analytics can identify the most successful language in job ads based on the type of candidate and role. These applications can also flag any biases or tone that might deter diversity candidates. AI tools can also determine the best places to post particular jobs, including specific job boards.
Screening and Ranking: Using AI algorithms, an application can screen a large volume of candidates against job requirements extremely quickly and with higher relevance than manual screening. Using your previous hiring decisions and staff performance metrics, AI can predict the best candidates and rank them accordingly.
Chatbots Help You Engage Better with More Conversions: AI chatbots are available to talk to candidates 24/7 so you can engage them when their interest is highest. These tools can also answer applicant questions, even in foreign languages, and keep building the relationship, an impossible task for human recruiters in high-volume situations. Other solutions allow candidates to chat anonymously with current staff, lowering barriers and giving them greater confidence to move forward. With candidate relationship management, you can automate regular check-ins, so you don't ghost candidates, a commonly cited turnoff. Intelligent tools can provide personal email addresses, social profiles, and cellphone numbers to help you contact in-demand talent where they are more likely to respond. AI also finds and puts personal information and data on candidates at your fingertips, helping you personalize your outreach to improve response rates.
No-Hassle Scheduling: AI assistants can eliminate the back and forth of scheduling interviews, saving recruiters an enormous amount of time. AI tools also perform this task via text messaging, improving your success in reaching millennial and younger applicants who are more likely to respond to texts.
Higher Recruiter Productivity: While efficiency is a benefit of most individual AI recruiting applications, you can compound improvements in recruiter productivity with AI-powered workflows that address the full cycle. You can reap benefits such as job market forecasting and helping prevent candidates or requisitions falling through the cracks. AI analytics can look at where you are losing candidates in your funnel, where you are sourcing the best hires, and which recruiting teams perform strongest. Then you can optimize your processes.
AI Use Cases in the Selection Phase of Hiring
The search phase helps identify potential hires and check they meet the basic qualifications. The selection phase of the recruiting process entails interviews, assessments, background checks, extending an offer, and finalizing a hire.
Perform More Insightful Interviews: Artificial intelligence can help you conduct better interviews by suggesting questions and areas of a candidate's resume to probe more deeply. AI applications using face and voice recognition can perform behavior and sentiment analysis on candidates in interviews and look for signs that an applicant would be a good fit or that he or she is lying. For high-volume hiring, tools can conduct automated initial video interviews with potential hires using smartphones or computers. The ability of AI to remove human bias can make this step more equitable and reduce discrimination. These applications also facilitate remote hiring.
Produce Data-Driven Assessments: AI tools can automate skill-based assessments, including work simulations (many employers and applicants view as the best indicator of on-the-job success), and the scoring and interpretation of these assessments. Other uses are game-based tests, psychometric evaluations, and aptitude tests which look at problem-solving or critical thinking abilities. Using artificial intelligence solutions, recruiters can also assess soft skills and personality traits with greater accuracy and lower cost and speed.
AI Use Cases in the Hiring Phase
Once you have selected a candidate whom you want to hire, you need to perform verifications, get approvals, extend an offer, and bring the new staff member on board. AI tools can help:
Perform a Deeper Verification Process: Background verification including job history, personal information, and criminal records has traditionally been time-consuming, focused on manual record checks, and required outside agencies. AI automates verifications. And AI is more accurate because new tools cover much more data, and analytics spot subtle clues. These tools can also search for links or affiliations between potential hires and worrisome activity, reducing security and regulatory risks. AI is also better at weeding out false positives or bad data. New technology improves accuracy by using real-time rather than historical data and incorporates biometric identification to do live identity verification.
Streamline the Offer Process: The latest technology helps determine compensation by crunching data from market trends, your workforce, and candidates' salary histories. So, you maximize competitiveness without overpaying. These applications help you move quickly from verbal acceptance of an offer. They expedite the process by automating hiring paperwork, getting approvals, notifications, digital contract signing, tracking progress, nudging when slowdowns occur, and more.
Automate Onboarding: AI tools can automate time-consuming aspects of getting a new employee up and running, improving their experience and happiness as well as getting them to productivity faster. These steps include filling out forms, answering questions about policies on vacation, benefits, and pay, getting the new staff member set up with system profiles and passwords, scheduling get-acquainted sessions with key people, and training.
How AI is Changing Recruitment
Artificial Intelligence is changing recruitment by performing valuable tasks using actionable data. AI solutions use automation to find qualified candidates, decrease the cost of interviewing and hiring, and dramatically reduces the time to hire.
To make a business case for investing in in AI recruiting solutions or setting objectives for AI in HR, you need data. Let's look at how AI impacts key performance indicators (KPIs) such as cost, time, and quality of hire.
AI Reduces Time to Fill, Time to Hire
Time to hire measures how many days elapse from when a candidate enters your pipeline to hiring. While time to fill is the number of days from when a job opening is approved to when an offer is accepted. 
According to 2017 data from the Society for Human Resource Management, the average time to fill a position is 36 days. Glassdoor reports that the average time to hire in the United States is 23.8 days. These times vary widely by industry, job role, and geography.
AI Recruiting Case Studies
See how a U.S. West Coast retailer reduced its offer time by 60 percent by using AllyO recruiting software. Read this AI recruitment case study on how National Safety Apparel decreased its time to hire to less than a week from two to three weeks using the solution. And a Southern Based Retailer reduced its time to fill warehouse jobs to six days from up to 15 days.
One Burger Franchise shows how they save the 10 to 20 percent of each day spent on routine recruiting tasks. The Director of Operations, explains, "Today, we can stand by on autopilot as qualified, interested applicants walk in for interviews when managers are available."
AI Decreases Cost per Interview, Cost per Hire
Using AI-driven recruitment reduces costs. The average cost per hire in the United States is about $4,425, Society for Human Resources Management (SHRM) finds. According to an analysis by the Center for American Progress, the costs of replacing an employee typically averages 10 to 30 percent of their salary but can go as high as 213 percent for highly skilled or senior positions. Plus, the average organization loses $407 a day for each vacant job, according to a Gartner study.
Cabinetry company MasterBrand piloted AllyO's AI-powered solution and decreased the cost per hire to $131 from $237.  Recruiting application Hundred5 estimates technology-driven recruiting saved one company about $1,149 per hire. 
At AllyO, customer results show an average decrease of $70 in the cost per interview from using AI recruitment.
Jeff Wald, Co-Founder of WorkMarket, estimates that the average Fortune 500 department could generate $4.7 million in savings a year from artificial intelligence and automation. He bases that on a survey by WorkMarket that found more than half of employees believe workflow automation can save them up to two hours a day. While three-quarters of leaders think they can save three hours a day. That equals six to nine working weeks a year.
AI Improves Quality of Hire
Unlike time and cost KPIs, there is no consensus on benchmarks for quality of hire. Among the metrics used are retention, hiring manager satisfaction, ramp-up time for a new employee, revenue generated per employee, and cultural fit ratings.
Artificial intelligence in recruitment and selection can improve these scores in several ways such as by enabling you to screen resumes based on successful employees' attributes like experience or skills, optimizing pre-employment assessments, analyzing speech and facial expressions in candidate interviews, and collecting pre- and post-hire data.
A Southern Based Retailer, which we earlier noted reduced its time to hire dramatically with AI, also found other improvements using it for texting and automated scheduling. The number of candidates engaged doubled, applicants interviewed quadrupled, the interview show rate increased by more than half, and the interview to hire ratio fell by a third. 
Example of AI-Driven Workflow for High-Volume Recruiting
As technology automates and optimizes steps in the recruiting process, various tools and solutions integrate to create a seamless flow. Here's an example of how an AI-driven workflow functions from end to end.
A job requisition is input into your system.
The system develops a job description using a template and a job ad optimized with analytics.
Your system recommends where to post the job for best results.
Sourcing technology identifies passive candidates.
Chatbots answer questions from candidates who visit your site and encourage them to apply.
Applicants submit resumes in response to your posting.
Screening tools assess and rank applicants.
The system invites top-ranking candidates to perform assessments.
The application identifies the best-fit applicants for interviews.
The system automates scheduling the interviews.
AI analyzes automated video interviews.
Top performers come in for further in-person interviews.
The system automates the hiring approval and offer management.
Once the offer is accepted, the system.
How to Build Your AI Recruiting Stack
As AI-powered technology becomes more critical to the recruiting process, you will want to have the right tools to stay ahead of the curve. But understanding what's available and how these solutions work together can be overwhelming. There are at least 650 software applications in the HR space.
So how do you build an AI recruiting stack that is useful, easily managed, and cost-effective?
"If you look at the recruiting cycle, AI plays a part everywhere. Some areas more than others, but nothing is untouched," notes Wheeler of Future of Talent Institute. "The potential savings are almost immeasurable… The efficiency potential is very big."
Recruiting pros agree that the applicant tracking system (ATS) should be the core of your recruiting technology and recommend choosing an AI-driven solution that offers analytics. The ATS automates your hiring pipeline and streamlines manual processes.
Then consider your needs and priorities. If your company hires a large volume of staff or has unique needs, then building an end-to-end stack makes sense. This process entails covering marketing, sourcing, engagement, screening, assessment, and hiring.
But if you have a smaller budget or less bandwidth to manage numerous IT applications from multiple vendors, focus on the applications that will deliver the most dramatic improvements. AI enhancements can appear at any phase of the recruiting workflow, depending on your needs.
Wheeler says that engagement with candidates and screening and assessment are areas where AI-backed tools can make the biggest contribution. Another solution is to contract with a vendor that has done the work of integrating tools into a full stack already. The vendor can save you from having to identify and evaluate tools, integrate them, and manage them. 
Some questions to consider when looking for an AI recruitment solution:
What are your most important objectives?
What is the business case?
How will an AI solution impact the experience of recruiters, candidates, and hiring managers?
How receptive are your recruiters to adopting the technology?
How will you monitor and measure the performance of the new technology?
Can you ensure regulatory compliance, freedom from bias, and good privacy practices?
Challenges of AI-Powered Recruitment and How to Overcome Them
While AI improves recruitment in many ways, AI-driven recruiting is not without challenges. As you consider building your recruitment tech stack, you will want to consider these elements.
AI's Data Needs in Recruiting
First, to work well, AI-driven recruiting needs a lot of data to train algorithms. Implementers must carefully think out the data strategy because it's easy to introduce human bias.
Asked where the promise of AI has been overinflated, Stacy Chapman, CEO of Swooptalent, says, "If the data isn't right, the answer sadly is everywhere. The two things AI needs most are processing power — easy — and data — not so easy! If you aren't giving serious thought to how you will have the data to feed AI, you will be left in the dust."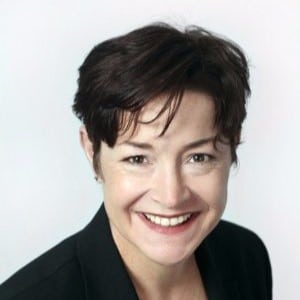 For example, say a company uses its best software engineers to program its AI to find more matching candidates. However, the company currently has only male software engineers. Unless the employer actively accounts for this, the AI system would be trained to seek out male candidates.
Resistance to AI Among Recruiting Staff
Another hurdle with AI-driven recruitment is resistance to new technology among recruiting staff. This apprehension in part, stems from fears that automation will drive job losses. While the labor-saving potential of AI can reduce headcount, it makes other skills more valuable, such as creativity and relationship-building. So, to lay the groundwork for AI in recruiting, help staff see the potential for AI to free them for higher value work and support them in developing these skills.
Ethical Concerns about AI and Recruiting
Lastly, there are concerns over privacy and data protection. Regulatory efforts like the European Union's GDPR rules and a British code to shape the development of AI focus on ensuring the  use of personal data and fairness. Companies using AI in recruitment need to demand the highest standards from solutions vendors.
How Will AI Affect Recruitment in 2020 and Beyond?
Looking ahead, experts see AI becoming more central to the recruitment and selection process. While AI-driven reduction in manual work will enable leaner recruiting teams, the role recruiters play will become more strategic. Job prospects for talented recruiters remain strong as long as they become adept at maximizing the technology.
"We are at a very early stage now. A handful of companies have adopted AI, but it's piecemeal and scattered. It's still a bit of a luxury and is confusing and frightening to many recruiters… Over time it will accelerate," Wheeler predicts.
Eubanks of Lighthouse Research and Advisory says it's important to underscore that the objective is not to automate all parts of recruiting. "We wouldn't want to hire someone without them interacting with a human. While there are things that technology can do even better than a human, they can't go through an offer and talk about culture. A human has to do that," he says.
The pace of technological innovation will also remain brisk. "We will see self-learning in many places — interviewing, screening, scoring – even process management," Chapman envisions. "Across the talent lifecycle, applications will self-learn so that they can adapt themselves to be more effective and to deliver better results."
While new functionality is on the horizon, the number of tools is likely to fall as competition and consolidation take hold in a highly fragmented marketplace, experts believe. This market shift will make it easier to identify best-in-class solutions.
Discover How AllyO Automates End-to-End Recruiting
To succeed today, recruiters and employers need to harness AI tools to eliminate repetitive work and strengthen their sourcing and engagement with candidates. AllyO uses conversational AI to automate end-to-end recruiting, solving your challenges in every phase of the talent acquisition cycle. Automated workflows and analytics help you save time, reduce costs, and find more qualified candidates. Discover how to streamline your recruiting process and create a happier experience for candidates with AllyO.