Streamlining HR Operations Now and in the Future
As an experienced HR technology professional, I enjoy sharing my HR process expertise. In this article, I will take a deep dive into strategic HR process automation, now and in the future.
In this article:
What Is Human Resources Process Automation?
HR process automation, also known as HR automation, enhances the department's overall efficiency by tackling the repetitive tasks or processes, eliminating the need for humans performing mundane, and time-consuming transactional and routine job functions. HR automation solutions harness data to produce measurable improvements.
It is no surprise that applying data-driven automation to business processes helps companies remain competitive. According to a Bersin by Deloitte research study on talent acquisition, "Optimizing technology – using data to find, source, and select candidates more efficiently and taking a data-driven, expedited approach to hiring – is one of the recruiting function's biggest opportunities." What is surprising is that HR departments are behind on this trend with as many as 64 percent of professionals reporting that their capabilities are just not good enough to keep up. It is also true that the purpose and functions of human resources are rapidly changing. HR teams don't only find and manage talent. They also provide high-level service, benefits management, training, performance measurements, and strategic growth strategies that they deliver in a customer-centric way. To address this increasingly varied and evolving array of HR services, many professionals are now turning to HR process automation.
What Is HR Automation?
HR automation, also known as HR process automation, handles repetitive tasks or processes. Implementing automation frees up time for HR professionals to focus on elements of their job that need a human touch. These types of automated solutions use data to produce measurable improvements.
However, HR continues to lag in automation adoption. An AIIM study reported that 53 percent of HR departments still use paper-based systems to manage their employee files. These manual practices make it challenging to manage, monitor, and communicate; and are prone to costly errors. By automating repeatable functions, HR can focus on engagement and retention strategies that take on problem-solving and long-range strategic planning.
Streamlining HR Process – A Use Case
The next ten years will witness tremendous growth in HR automation. Many functions, such as payroll, benefits administration, and general HR administration, will soon be 100 percent automated. These high-impact repeatable functions are easy to automate and provide valuable data for human capital management. With automation, HR professionals have more useful resources and insights to plan and deploy services and programs to foster engagement, employee relations, and business growth.
Functions that enjoy almost immediate cost and time improvements are those surrounding recruitment. A Global Hospitality Company uses HR automation in its hiring and was recently named the number one company to work for by Fortune Magazine. It's no wonder they receive thousands of applications per day. Since up to 88 percent of applicants are not a good fit for the job, they has learned that manually finding top-tier candidates is an inefficient strategy. The company automates candidate screening communication, interview scheduling, and candidate follow-up. Resulting in an HR department that's free to engage in higher touch interactions that lead to faster hiring and happier employees.
Processes that employers, can automate, include:
Candidate pre-screening and shortlisting
Candidate skills assessment
Candidate background check
Resume assessment for job fit
Interview scheduling, rescheduling, and cancellation
Pre-interview reminder messaging
Post-interview follow-up messaging
Offer letter administration
What Are the Benefits of Automation in HR Processes?
Automating tasks such as pre-screening identifies high-quality candidates without manual intervention. Automated 24/7 communications to the candidate and other departments coupled with activity alerts, shortens the entire process.
Like many departments, HR professionals take on more responsibilities as a company grows and often experience strained resources and increased time constraints. Using intelligent automation can provide an HR specialist with a smooth process from screening the best candidate to assuring their new laptop is waiting for them on their first day.
However, automation solutions also streamline functions for existing employees. Automation can aid in record keeping as an employee's status evolves, such as when they marry, have children, are promoted, or leave. With data available in one place, the HR team realizes greater efficiencies in all records maintenance and communication.
By implementing intelligent automation, measurements such as Additionally, automation can streamline functions that require data entry, calculations, or multi-step tasks or reporting.
Benefits of automating HR processes are:
Improve productivity, efficiency, agility, decision making, and growth
Reduce time to hire and increase onboarding speed
Decrease compliance violations, time theft, and strengthen security
Mitigate risk
Increase the security of sensitive data
Enhance response to questions, requests, or changes
Improve cross-department collaboration, communication, and workflows
Reduce turnover
Reduce costs
Improve employee experience, morale, and create consistent people processes across the organization
Streamline overall HR operations
Maggiano's Little Italy restaurant chain is a successful example of using automation in hiring. By deploying smart automation solutions to identify and capture the best candidates quickly, interview, follow up, and hire, Maggiano's closed 66 percent of open requisitions in just two weeks.
Emerging Best Practices for Robotic Process Automation in HR
If designed well, RPA will make your HR team increasingly productive and efficient. To ensure success, consider the following best practices as you define and automate your HR processes:
Identify the most suitable procedures for automation 
Start with a small number of processes to demonstrate quick wins
Gain support from leadership and stakeholders
Train all HR staff, leadership, stakeholders, and users on the capabilities and their responsibilities
Identify the most suitable HR RPA solution based on your unique business requirements
Future of Robotic Process Automation (RPA) in HR
Robotic Process Automation (RPA) performs rules-based transactional processes without human intervention. You can configure RPA technology to process a transaction, analyze data, trigger actions, and communicate across systems. RPA's capabilities provide impressive labor-reducing and cost-saving functionality by streamlining HR tasks.
Automation is improving HR at a rapid rate, especially in areas of payroll and benefits administration. Kevin Wheeler, President of the Future of Talent Institute, says, "Soft skills functions such as career development and employee coaching are not automated much today. I believe that expert systems (and) automation will augment, but not completely automate these, fairly soon."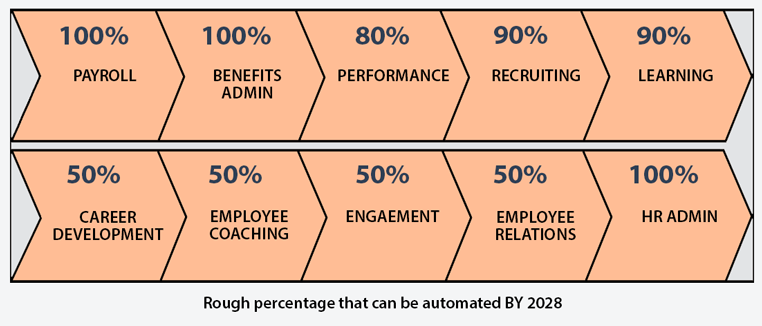 The Future of HR Process Automation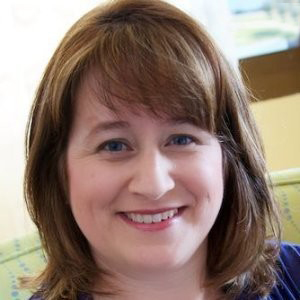 Elaine Orler, CEO and Founder of Talent Function, believes that "One of the most complex and time-consuming manual tasks that have not successfully been tackled by automation is scheduling. The complexity that comes with connecting a variety of calendars, with the need to schedule multiple interviewers, in different rooms, at different times, for specific time slots is just not available yet."
It is indisputable that robotic AI-powered technology has become a trend that can measurably improve business performance. Some worry that everything will become automated, making workers obsolete, but the truth is that technological innovation is a catalyst for change, improvement, and growth. For example, MasterBrand Cabinet's sought to reduce the cost to hire and improve candidate engagement. By partnering with an end-to-end services provider, the company realized an impressive 55 percent cost savings per hire. As to the candidate experience, 97 percent reported an "excellent experience" with the new automated hiring processes.
At AllyO, we believe three important themes will dominate recruiting in 2019:
Entry by established human capital management (HCM) vendors such as SAP, Workday, and Oracle
Current AI recruiting vendors will settle into their respective niches
New use cases will emerge and with them, new vendors creating even more fragmentation
It Is Time To Automate Hiring Processes?
According to a Deloitte study on Global Human Capital Trends, "people analytics" is one of the most critical trends for business. However, only eight percent of organizations have valuable, actionable employment data with few who understand what drives talent performance. Deloitte reports in their recent "HR Scorecard" that human resource professionals are struggling to keep up with talent acquisition demands with only 36 percent of HR Teams reporting good or excellent capabilities.
In 2018, a recent report on the future of employee-related activities stated that 56 percent of the employee lifecycle from "hire to retire" can be automated for cost and resource savings.
Knowing whether it's time to automate HR workflow is organization-specific, but the technology for HR automation is rising to meet demand. Orler says, "An organization that is in a startup or a high resource demand state, running at a fast pace and need to find people quickly, is an ideal candidate for automation."
Below are some signs that it's time to consider HR process automation:
HR staff buried in manual, repetitive, and time-consuming tasks
A continually changing workforce or high-volume hiring
Understaffed HR department
Human error rates have increased, efficiency has decreased
Plans for business growth, merger/acquisition, or expansion
Insufficient reporting and analytics
Labor intensive, repeatable, rules-based processes that span multiple platforms
Candidates, employees, or HR staff are experiencing ineffective interactions
Desire to keep pace in today's highly competitive marketplace
Best Practices for Identifying HR Processes to Automate
With workforces that are more diverse, more global, and span many generations, identifying, keeping, and developing talent is a new frontier for HR management. Understanding how to motivate and engage current and future workers present opportunities for HR professionals to be creative and strategic when planning for growth. When reviewing processes or tasks to automate, it is useful to focus on high-volume, time-consuming, repetitive tasks that require little human intervention.
Wheeler suggests, "The best way to get started with automation is to start with one process, automate it well, and then prove that that automation is beneficial. Then move on to the next process. Demonstrate success as you go."
However, an HR professional's job doesn't end with a successful hire. They also focus on the entire employment lifecycle from benefits management, to productivity, training, and promotion, to business culture and morale. By automating the repeatable tasks, HR can enjoy more time, resources, and capital to focus on "human" elements that promote employee engagement and opportunities for strategic decision making. Moreover, automation has been shown to increase satisfaction for prospective employees, current employees, and HR professionals.
Below is a list of questions to consider when trying to identify the most suitable processes to automate.
>>>Schedule a demo to explore AllyO's recruiting automation chatbot
Hiring Process Suitability Questionnaire
| | |
| --- | --- |
| Have you analyzed and mapped the process with all exceptions and minute detail? | Mapping every minuscule detail associated with the process will help determine if it is the right process to automate. |
| Is the process overly complicated, requiring multiple systems, numerous steps, or frequent human intervention? | Attempting to automate overly complex processes may increase workload rather than reducing it. It may make sense to automate simple processes and then evaluate more complex processes. |
| Does the process require human decision making? | Consider points of human intervention. You may be able to eliminate these points with automation. |
| Is the process repetitive, such as copy-paste? | Processes that are repetitive, rule-based, and standardized are the most fitting for automation. |
Getting Started with RPA for HR Processes
Recruiting and Talent Acquisition: Hiring requests, social media ads, sourcing, outreach to candidate database, interview scheduling, application screening, automated communication, offer letter drafts, onboarding, and alerts to HR and supporting departments
Strategic Human Resource Management: Human resource information management systems (HRIS/HRMS) for automated analytics, insights and reporting, content management, business intelligence (BI), updates on regulatory changes or policy and procedures, employee records management in one digital repository, automated alerts, payroll, time tracking, holidays, leave requests, transfers, tax forms and records, benefits management, standardized training, expense reimbursements, tuition reimbursements, data security, offboarding, and health and safety
Employee Engagement: Self-serve portals to manage requests and changes, training for continuous improvement, internal applications and referrals, performance reviews and appraisals, surveys, and exit interviews
In addition to functionality, evaluate setup costs, licensing rules, and maintenance fees. Finally, once you select your solution, develop training programs to assist in the adoption process.
Below you will find a comparison of the most popular HR technology solutions, demonstrating their ability to support strategic HR process automation.
HR Process Automation Tools Comparison Chart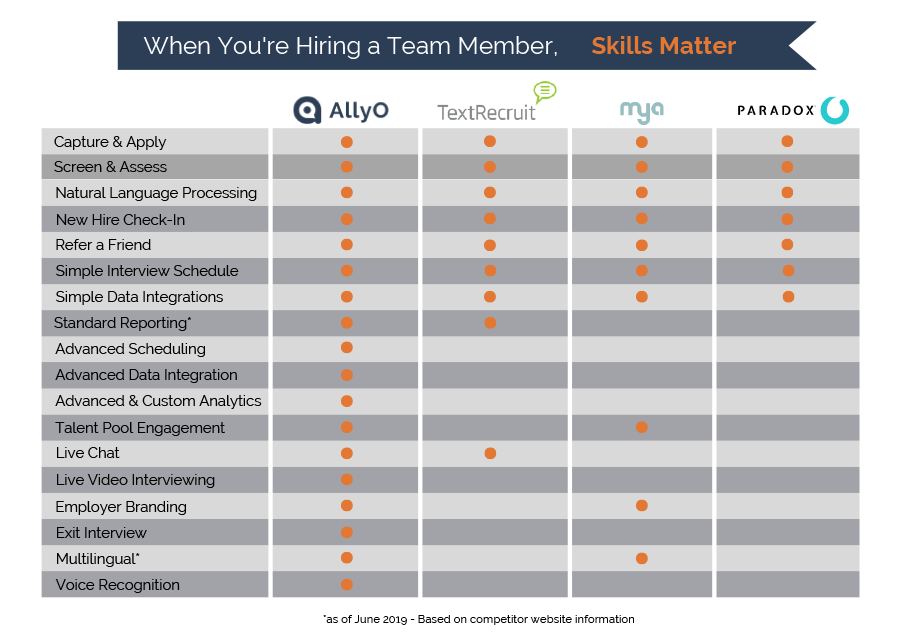 According to Deloitte's Global Human Captial Trends, only 22 percent of the highest-performing HR organizations currently using or planning to use RPA. It's clear that the adoption of HR automation technology continues to be slow. Great talent, whether sought for hire or cultivated in-house through creative HR strategies, is a requirement for business success. Employees are multi-generational and expect exceptional communication and easy access to information. They respect inclusion and demand flexibility. To meet these realities, HR needs agile practices and streamlined processes. Moreover, today's HR automation solutions are crucial to improving speed to hire, easing the burden of tedious back-office processes, and providing experiences that deliver satisfaction to candidates, employees, and the HR department.
Get Started with Automated Hiring Tools
Companies that need to improve their hiring strategy need automation tools to free up their most valuable asset—their HR department. AllyO is an AI technology company that can help. AllyO uses conversational AI to automate end-to-end recruiting, solving your challenges in every phase of the talent acquisition cycle. Automated workflows and analytics help you save time, reduce costs, and find more qualified candidates.
Backed by leading investors such as Gradient Ventures (Google's AI fund), Randstad Innovation Fund, Sapphire Ventures, Bain Capital Ventures, Cervin Ventures and Scale Venture Partners. and used by Fortune 500 enterprises, AllyO customers have experienced a 2-6X increase in applicant capture and conversion rate, 91 percent application completion rate, and over 50 percent reduction in cost and time to hire. Discover how to streamline your recruiting process and create a more productive HR team with AllyO.