How AI Can Enhance the Personal Touch in Candidate Recruitment
Recruitment automation is giving hiring teams a much-needed advantage in a highly competitive market. Inside this complete guide to recruiting automation, you will find:
In this article:
What Is Recruitment Automation?
Recruitment automation is a solution that recruiters use to automate basic hiring tasks. Those tasks include finding talent, corresponding with applicants, performing assessments, screening resumes, and tracking analytics. Using this software frees up valuable recruiter time so they can focus on finding hires that fit within their company's culture.
There are few things more exciting than opening an offer letter or getting an email that states, "We choose you." It's like Sally Field's famous acceptance speech at the 1984 Oscars, "You like me, right now, you like me!"
The road to hearing you're hired can be long, multi-faceted, and even painful for both the recruiter and the candidate. Statistically, both sides agree that it's time for improvement. A recruiter spends over 80 percent of their time on low-value tasks. While 85 percent of candidates say, they could not rate the hiring process as fulfilling or positive. And with unemployment at historic lows, good candidates are being snatched up at record pace. The bottom line: If your system for recruiting is behind the times, it costs you.
Many HR professionals experience disappointment when they offer a position, and they hear: "Sorry, I've already accepted another offer." Their investment in time has been wasted. They have to deliver the bad news to the hiring manager and start the process again. And, this example is not an uncommon scenario.
Since the competition for top talent is so fierce, it's imperative to find ways to engage candidates at all points of the hiring process. The seemingly simple task of acknowledging an application is time-consuming when done manually. For this reason, fewer than 20 percent of candidates receive a response to their application, according to studies.
How Recruiting Process Automation Can Help
Organizations want to gain a competitive edge when vying for the best candidates, but weeding through hundreds of resumes or reaching out to numerous sources to identify top talent is a time-consuming task. On the flip side, candidates do not respond well to isolation or complicated processes. Each company has different challenges when looking for the best candidates. For many retail companies, the focus is on job boards, word of mouth, and referrals to entice that next great employee.
The average retail job receives over 250 resumes per position, but 82 percent of retail employers report difficulties in finding employees with cross-functional experience. Their tasks are even more challenging at times of high seasonal demand. Automated postings, screenings, and instant communication using Natural Language Processing (NLP) can streamline the process and quickly find the best candidates. This automation can prove essential when assessing numerous candidates while chatting with them to determine their fitness for the role.
The right automation solution can be integrated into an existing process to save time and money. Sample recruiting activities that can be automated include:
Resume screening for experience
Candidate ranking
Initial assessments
Engagement activities and candidate relationship management (CRM)
Applicant tracking (ATS)
Interview scheduling
Background checks
Onboarding checklists
After hire check-ins
>>>Schedule a demo to explore AllyO's recruiting automation chatbot
Recruitment Automation Use Cases
Recruiting is a complex task that can be time-consuming and costly regardless of the role you are trying to fill. Integrating AI into the recruiting process has demonstrated great promise across industries. One Southwest retailer, decided to run a recruitment automation pilot program to address the behaviors of new candidates. The outcomes of the pilot program were astounding, producing faster interviews, shorter time to hire, more responsive candidates, and a decrease in cost per hire. A talent acquisition operations consultant with the company explains, "Recognizing a shift in candidate engagement behavior away from picking up the phone to text messaging required an upgrade in our recruiting tools. The outcome of adopting an interactive nature of conversational recruiting transformed our conversion of an applicant to hire by 3X."
Hotel brand, Hilton, experienced an immediate improvement in their recruiter productivity, applicant experience, and a reduction in time to fill positions by incorporating natural language technology and AI. Hilton recruiters have saved so much time with recruiting automation that they have been able to shift from routine tasks to candidate nurturing and onboarding activities.
An Evolving Recruitment Landscape
Recruiting new team members for a mom-and-pop, a medium-sized business (SMB), or at a large enterprise corporation is an integral part of overall business success and growth strategies. However, companies struggle with losing top candidates for a myriad of reasons including: 
Process hang-ups
Expensive and non-productive job advertisements
Candidates getting lost in the recruiting funnel
Challenges around scheduling interviews across multiple locations, departments, and hiring managers
Employee disengagement
Today, we are not entirely removed from newspaper ads, snail-mailed or emailed CVs and resumes, and employee referrals. However, the landscape is changing. Waiting for a candidate to send a resume or CV may not be the most efficient strategy to find qualified talent in a competitive market. Instead, many companies actively and consistently use outbound activities rather than wait for inbound applications. Speed-to-hire or promote is key for today's candidates. Long hiring timelines combined with minimal communication and scarce talent, can cause companies to miss out on top candidates.
Recruiting that partners personal touch with automated processes is gaining popularity. Organizations look to simplify recruiting processes to discover the most qualified candidates and move them through the hiring process in a streamlined and more engaging manner.
What Is Artificial Intelligence in Recruitment?
AI automation is a category of recruitment automation software that automates more hiring tasks. The AI-driven software reduces sourcing time, performs application reviews, discovers the best-qualified candidates, provides custom responses and updates, and delivers analytics and KPIs.
Recruiters are overwhelmed and slowed by the numerous and varied tasks of human capital management. Today's candidates often languish with little communication or valuable feedback with 70 percent reporting that they believe their application ends up in a "black hole"(see graphic below).
AI recruiting software can meet the high demands of today's recruiters and candidates, transforming the recruiting function. The capabilities of AI-driven solutions allow algorithms to quickly and automatically sort through resumes and pinpoint the best candidates. Since, according to a CareerBuilder.com survey, at least 50 percent of candidates do not qualify for the position, the recruiter gains valuable time because only the most qualified candidates end up on their desk.
AI solutions can do more than weed through resumes. They can provide communication to candidates, and perform an initial assessment, using voice analytics that uses cues to rank candidates during screenings and interviewing. The right AI recruitment tool, with machine learning, is equipped to learn as postings are made, candidates are screened, and new hires are onboarded. In other words, the system improves with use. Intelligent screening software applies the knowledge culled about employees' experience, skills, and other qualifications to automatically screen, rank, and grade new candidates.
Driving Factors for Recruiting Automation
Workforce management is a demanding job. As HR departments work with fewer resources, recruitment automation can make an enormous impact. The competition for talent, improved technology, mass amounts of information hiring volume increases, and a shift from inbound to outbound recruiting, enhances the need for simplified and more effective recruiting practices.
According to a Capterra report on the impact of recruiting software, 94 percent of recruiters who use software say it has improved their hiring process. There is also a lost opportunity cost when a carefully chosen candidate opts for another position before your offer arrives. Other factors to consider, according to CareerBuilder, up to 60 percent of applicants quit the application process if it's too complex or takes too long. AI driven-automation can reverse this trend with application completion times going from 17 minutes to three minutes. This improvement leads to a 94 percent increase in completion rates.
CareerBuilder's survey data provides another argument for automation. The company reports that 67 percent of job seekers have a positive impression of a company if they receive consistent updates throughout the application process. Automated processes can keep the referring employee updated as well, which is essential since employee referrals generate 40 percent of new hires.

Benefits and the ROI of an Automated Recruiting Process
Low unemployment and an increase in a need for highly specialized skills and experience, makes finding qualified applicants challenging. Only about 10 percent of resumes received come from qualified applicants. By automatically filtering through unqualified candidates, a recruiting specialist can regain valuable time that's spent identifying the best-qualified talent for any one position. HR automation eliminates hiring biases, reduces operational expenses, and provides efficient recruiting tools, methods, and analytics. These advances of manual work on each applicant.
An additional benefit directly related to faster and more efficient hiring processes is the reduction in per hire costs and expenses associated with missed opportunities or poor choices. A vacant position is a massive expense in the form of lost output, job advertisements, reduced revenues, lost efficiency, and the cost that comes with risk. On the other hand, the costs of making a poor hire can be significantly more. According to CareerBuilder, as many as 41 percent of employers indicate that a bad hire can cost $25K, with 25 percent estimating the real figure is closer to $50K.
Automation uses standardized screenings and assessments to streamlines processes that identify those who are most qualified. So specialists have more time more human-centric activities such as evaluating cultural fit and even someone's enthusiasm or temperament for the position.
Common Misconceptions Surrounding Recruitment Automation
It may seem counter-intuitive to say AI provides a more personal experience to recruitment, but it is true none the less. AI solutions for recruitment mimic human engagement, which is especially crucial as candidates move through the hiring funnel. Automated communication keeps them informed and not left wondering "what's going on?" Engagement, information, and providing an offer that parallels their interest and enthusiasm can make all the difference. Therefore, an automated solution acts as a partner, and not a replacement for the HR professional throughout the hiring process.
One of the biggest misconceptions is that AI recruitment automation will eliminate the need for some HR personnel. However, the goal of recruitment automation is to actually promote recruiters, removing the low-value tasks that keep them from essential functions such as strategy and creative workforce planning. Related to this misconception is the fear that personnel recruitment and management will lose the human touch. Instead, HR professionals should look to automation as a gift. Recruiters who automate finding and engaging candidates and keeping stakeholders informed, they can provide more value to the current workforce and future hires.
Remember that engagement is still key to success, but automation can make the tasks of communicating, checking in, and reaching out easier and more consistent. Ultimately, it's up to the HR specialists to foster and engage potential candidates. After all, that is what Candidate Relationship Management is all about.
Where to Start with Recruitment Automation
Now that you know what recruitment automation can do for your company, how do you start automating your recruiting processes? More than 50 percent of #HRTech projects do not take off because the business case does not pass the CFO's litmus test. Building a future-proof business case for AI recruiting software is one of the many challenges facing talent acquisition and staffing leaders. Watch this webinar on how to build a successful business case for AI recruiting software to learn how to position the benefits of recruitment automation.
Understanding your recruiting process and evaluating your recruiting pain points is also essential. Do you recruit primarily for hourly or contract workers or is your team culled from highly specialized pools of talent? Are there too many steps and approvals in your process? Is your recruitment team overwhelmed as open requisitions remain unfilled for weeks and months? Identifying the weaknesses in your system is an excellent place to start when looking to add recruitment automation to your hiring and retention processes.
Kevin Wheeler, President of the Future of Talent Institute, suggests starting small with automation. "The best way to get started with automation is to start with one particular process, automate it well, and then prove that that automation is beneficial. Then move on to the next process. Demonstrate success as you go."
When Is It Time to Invest in Recruiting Automation?
Competition for talented and happy employees is heating up. Market realities such as a skills gap and low unemployment are adding to the challenging hiring landscape. As a result, many organizations are looking to invest in processes that streamline tasks. Candidate Relationship Management (CRM) and Applicant Tracking Systems (ATS) combine relational and analytic functions for talent acquisition. In fact, trends point to an increase in automation spending for recruitment. According to a survey by GetApp, 86 percent of recruiters who use an ATS found it sped up their hiring process.
Recruiting is complicated, multi-faceted, and a considerable challenge for even the most sophisticated companies. If any of the following issues finding talent sound familiar, it's time to consider AI for recruitment:
Lack of human resources in HR leading to candidate backlogs, missed goals, unfilled requisitions, loss of top candidates, and recruiters feeling overwhelmed
Desperate need for and trouble identifying qualified applicants to fill highly-specialized roles
Inability to analyze candidate data and navigate the diverse pools of available talent
Desire to increase your competitive advantage and achieve better results
Recruiters are over-tasked with administrative activities, such as manually screening resumes
Lack of time to perform outbound recruiting tasks
Average time to hire is well-above the benchmark for similar companies
Reliance on external agencies to fill requisitions
Desire to scale your current recruiting and hiring strategy
Recruitment Automation Tools
The right automation software for your hiring needs should simplify your overall hiring process and workforce management. Solutions should focus on increasing productivity, maximizing resources, and optimizing HR performance metrics. Solution elements and offerings should be in a single solution that improves the candidate recruitment experience through communication, engagement, and shortened time-to-hire decisions.
With these ideas in mind here are some automated recruitment tool features to consider:
Talent pool development (internal and external)
Automated candidate data entry
Candidate sourcing, outreach, and continuous engagement
Job description creation
Automated job boards and social media postings
Candidate pre-qualification
Resume pre-screening
Candidate screening
Interview scheduling
Assessments, digitized/video-interviewing, and background checks
CRM and ATS integration
Candidate rediscovery and ranking
AI, machine learning, and natural language processing (NLP) functionality
Candidate pipeline management
Collect feedback from the hiring manager
Integrated onboarding
Data-based KPIs and analytics for monitoring success
Email integration
Digital contracts and signatures – paper reduction
Mobile capability – submit applications from a smartphone
Remote data access
Recruitment Automation Software: The Features You Need to Streamline Hiring
| | | | | | | | | |
| --- | --- | --- | --- | --- | --- | --- | --- | --- |
| Vendor | Sourcing & Engagement | Screening | Interview Scheduling | Onboarding / Retention | Live & Automated Engagement | ATS / CRM Integration | Artificial Intelligence | Video Interviewing |
| AllyO | x | x | x | x | x | x | x | x |
| Entelo | x |   |   |   |   | x | x |   |
| Ideal |   | x |   |   |   | x | x |   |
| Olivia (Paradox) | x | c | x |   | x | x | x |   |
| Mya | x | x | x |   |   | x | x |   |
>>>Schedule a demo to explore AllyO's recruiting automation chatbot
The Future of Recruitment Automation
According to the Bureau of Labor Statistics, there are currently a reported 7.1 million unfilled jobs and a plunging unemployment rate. Competition for talent is now a sprint rather than a marathon. Add to these daunting numbers the Pareto principle (80/20 rule) that states 80 percent of business profits are generated by only 20 percent of its workforce. Clearly, the quality of your next hire has a high impact on your company's success. Many organizations are just beginning to see the value in winning the hiring race. Humans are playing an increasingly minor role in some processes as machine learning-enhanced human decision making, all-encompassing outbound marketing strategies, and AI that enables the best candidates to rise to the top. Automation allows recruiters to use their time to put a laser focus on the important human issues that are critical for a great hire.
"The areas that are not automated much today include the soft skills functions such as career development and employee coaching. I believe that automation will augment, but not completely automate these areas, fairly soon," explains Wheeler.
To put this in perspective consider Wheeler's diagram that demonstrates the levels of automation expected for HR by 2028.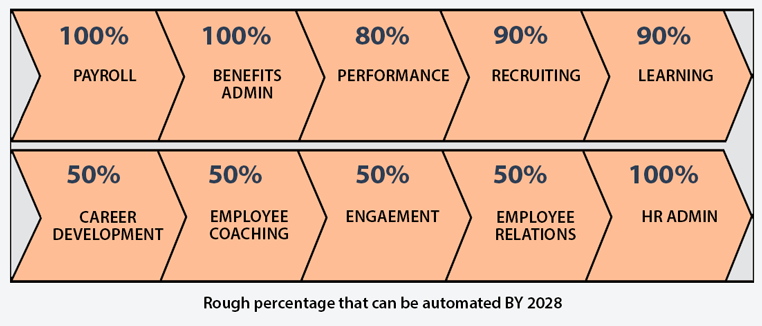 By implementing better strategies and using diminishing resources more wisely, the addition of AI-powered recruitment automation is the winning tool to provide an enhanced personal touch—a vital element in talent acquisition and future-focused workforce management.
Bringing the Personal Touch to Recruitment Automation
Recruiter's spend too much time on phone calls, emails, job postings, and other repetitive, administrative tasks. That's why automation technology has become such a vital part of today's recruitment process. Our mission is to make recruiting a delightful and efficient experience for both recruiters and applicants.
To streamline the recruitment process, we built AllyO, an end-to-end AI recruiter, in partnership with Google, Randstad, and Bain Capital Ventures. Fortune 500 enterprises that use our tool experience 2-6X increase in applicant capture and conversion rate; 91 percent application completion rate, and over 50 percent reduction in cost and time to hire. Our many AI recruiting case studies show you the variety of companies that have been successful using our end-to-end AI recruitment automation platform.