Hear from Doug Berg, Chief Zapper at ZAPinfo, and David Bernstein, Head of Industry Relationships and Partnerships at AllyO, as they provide a detailed explanation of how the unique partnership of ZAPinfo and AllyO provides ease to recruiters and automates top and middle funnel activities to optimize quality and quantity, while letting the recruiters focus on results and relationships.
While we recommend you hear straight from the experts, a summary of key takeaways are below!
Why ZAPinfo and AllyO are the perfect pair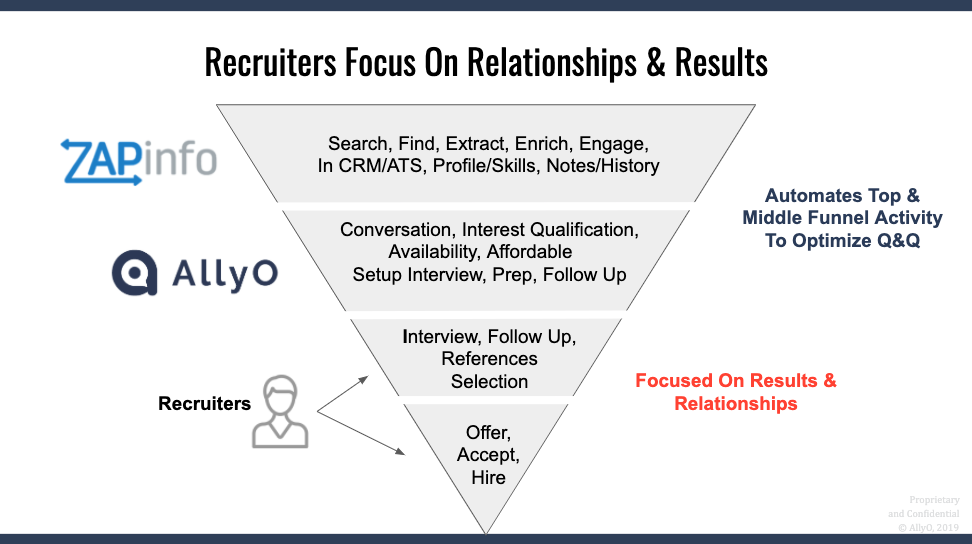 AllyO + ZAPinfo are like peanut butter and jelly. They're an exceptional pair. ZAPinfo finds interesting contacts, and AllyO engages them to uncover if they are interested, qualified, and available. 
By using both solutions, you can avoid what Doug Berg calls the saturation effect of recruiting activity. Without automation, recruiters initially spend a bulk of their time finding contact info and identifying new recruits, but their time is cannibalized when it comes to connecting and coordinating, which means finding new talent falls by the wayside. With automation, you experience the multiplication effect of automated recruiting, where you are able to consistently identify and engage new talent while still increasing your hiring output over time. 
The best part? Recruiters have the time to focus on relationships and results because sourcing and initial engagement are handled with less human input while achieving maximum output. 
A closer look at ZAPinfo
ZAPinfo finds new talent through automated extraction and enrichment of contact info from all sourcing subscriptions and public data, such as LinkedIn, ZoomInfo, ZipRecruiter, Monster, Facebook, and more. 
This can be done in two main ways:
Set criteria of the type of candidate you are looking for, and ZAPinfo will create a list of results of profiles that fit what you are looking for. It's the equivalent of doing a google search across all your sourcing subscriptions. 

If you come across a profile you are interested in for a particular position, you can "zap" them via a Chrome extension, and their profile will be enriched and added to your list of potential applicants. 
What next? Here's where AllyO comes in.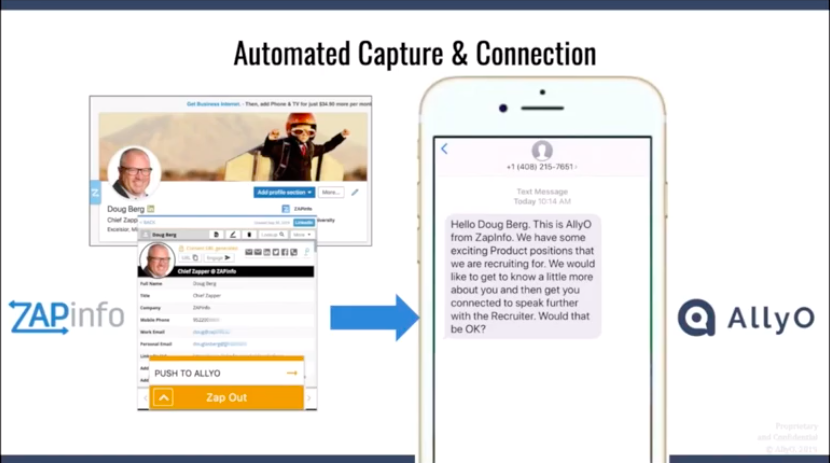 Now that you have a list of potential new candidates, ZAPinfo can push them to AllyO, where you can engage them through text, email, or webchat to start a conversation. The conversational AI will collect information about their location, experiences, availability, and more. Recruiters can set hard and soft knock-out questions that will help AllyO determine if a candidate is qualified. If so, AllyO will present them with available times to schedule a meeting with the recruiter. A profile with the completed screening questions and updated resume will be sent to the recruiter in preparation for the interview.
AllyO doesn't stop there. Candidates will receive reminders about their meetings and can cancel or reschedule via text. If a status is changed in your ATS, AllyO can be triggered to engage the candidate about the next step, whether that is re-engaging them about a new position, scheduling a follow-up interview, requesting a background check, or letting them know they've been hired.
Recruiters can also leverage texting through the platform and engage with potential applicants directly if they have questions that require a human touch, or the recruiter has an update outside of the workflow. 
Getting started with ZAPinfo + AllyO
Both systems are compliant and ask for candidate consent throughout the process. With deep, bi-directional integrations, you have peace of mind knowing all this data is added to your system of record. 
To learn more about these solutions, schedule a demo with AllyO, and mention your interest in ZAPinfo!