Safe to say, if you're reading this article, you're probably someone from a staffing agency. Let's assume that your agency is using Bullhorn's applicant tracking system (ATS) functionality to create job orders, distribute jobs across multiple channels, generate candidate interest for a given job order, and ultimately build and nurture a pool of talent for current and future opportunities. This is your everyday work life, your bread and butter. 
Though, there's a challenge your agency can't seem to overcome. When a job opens up, you're unable to submit a qualified candidate faster than the competition can. Well, there's a solution for that. A winning combination, as a matter of fact, that can work to help you leverage your talent pool and make placements faster. It's the integration between AllyO + Bullhorn. How does it work in action? What can you expect to gain from an AllyO + Bullhorn integration? Hint: you're getting the competitive edge.
Retention
Ensuring an assignee completes their assignment is crucial. Lost revenue in non-completed assignments, extra cost in scrambling to find a replacement, and damage to the agencies reputation can drain your agency. As many as 30-40% of people on assignment do not complete (ymmv based on industry). With AllyO + Bullhorn, you list your new opening in a Bullhorn tearsheet and add some possible candidates from your talent pool. AllyO works from the tearsheet to reach out to the candidates, screening them against the specific requirements of your job. Because time is of the essence, AllyO screens candidates in parallel and updates their information in the Bullhorn ATS as it becomes available. Your short list grows as fast as candidates can respond. 
Reassignment
Once your agency has a worker on assignment, the cost of worker acquisition is significantly reduced if you're able to keep that worker on ongoing assignments. Plus, if you do it well, you can quickly route an assignee to a new job order and increase the time to revenue for that job order. This will improve your reputation with customers for doing so. Often as high as 60-80% of people on a current assignment will get their next assignment from a different agency. By the way, the added benefit of focusing on reassignment is the candidate experience dramatically improves, which drives higher referral rates to the agency, improved Glassdoor scores, better reputation with employers, and ultimately more job orders. So you've found a great candidate, but don't have an opening at the moment. With AllyO + Bullhorn, you build a tearsheet with your selected candidate and a number of possible job openings. AllyO can reach out to your candidate, offering a choice of jobs from the tearsheet and screens the candidate against each opening. If the candidate qualifies, AllyO can create a job application, moving the candidate further along in the placement process.
Rediscovery
This is the holy grail for your agency. You're spending loads of money to create a talent pool for a particular job order. Given that typically there is only one slot per job order, it means that additional candidates are put in the holding pool for one candidate assigned. Over the course of time, your talent pool can grow stale, and your agency could be losing time and spending more money on finding "net new" candidates. With AllyO + Bullhorn, you can keep it up to date by giving AllyO a tearsheet that lists candidates but no specific jobs. AllyO will reach out with generic screening criteria, for example, checking that candidates are still available and living in the same area. Again, AllyO refreshes candidate records in the Bullhorn ATS. In addition, your recruiters can initiate personalized campaigns and continue one-on-one conversations until candidates are ready to enter the application phase. All one-on-one transcript records of AllyO Live Chat conversations are recorded as notes in the candidates' Bullhorn records.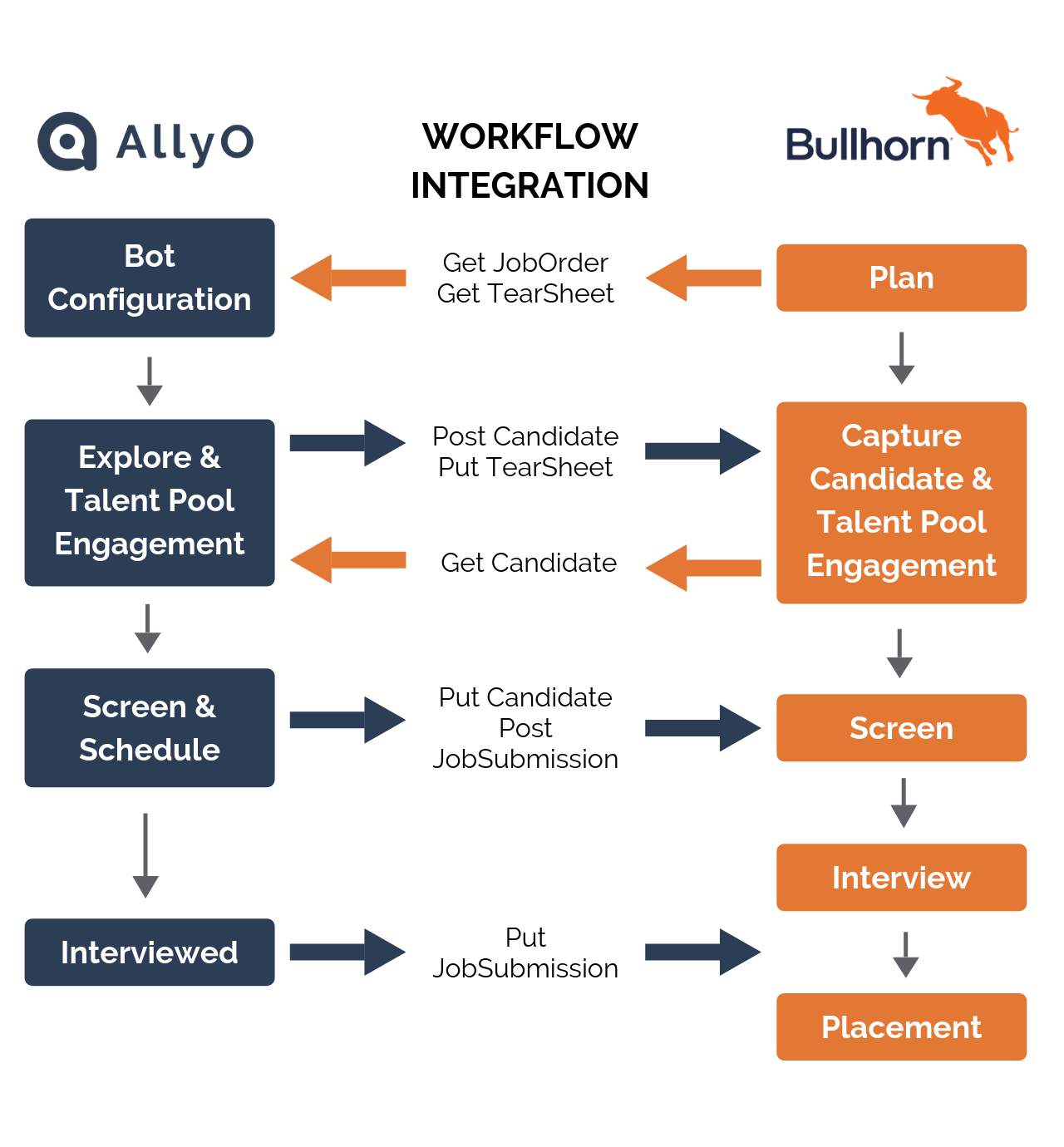 At the end of the day, choosing to automate your tasks and engagement at scale through the AllyO + Bullhorn integration will save your agency valuable time, improve both candidate and client experience, and make for more placements. To learn how to better engage your talent pool, read up on our talent pool engagement resources.