Being a quitter has never been easier. With salaries on the rise after a long awaited economic recovery, more and more workers are jumping ship to take advantage of better pay. And who could blame them? 
Turnover rates have hit a 17-year high. Just under half of all workers are leaving in the first 12 months of the job, and over half of those are making their departures within a mere 90 days. 
Not to mention, Millennials are the largest segment in the workforce, and they're three times more likely to walk out of position in the first year, as the majority of them feel disconnected with the companies who are signing their paycheck. 
But despite the obvious movement today's workforce is making, most staffing agencies haven't gotten the message: redeployment should be front and center to play a strategic role in an agency's business model. 
If redeployment hasn't been top of mind, it's not too late to get ahead of the curve. Only 6% of agencies even track redeployment rates, and more than half of agencies fail to find second placements for 25% of candidates. 
Why Candidate Redeployment Equals Easy Revenue for Staffing Agencies
Redeploying workers is one of the fastest, most affordable methods of placement available to staffing agencies, period. And not only does redeployment save agencies money, but it also generates income by decreasing time to place. As an added bonus, it increases the number of placements a company is able to make.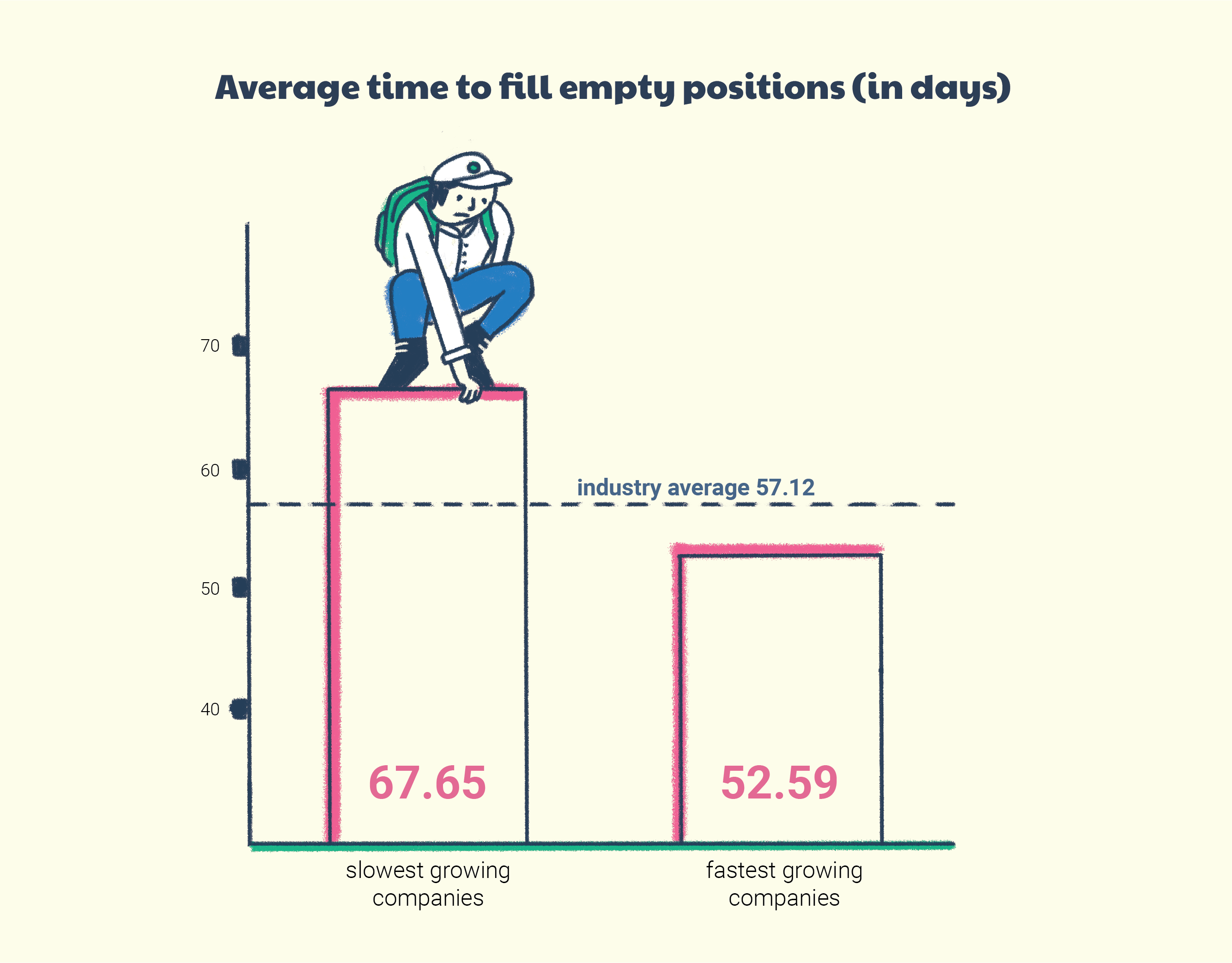 Source: A Data-Backed Analysis of Top Staffing & Recruiting Firms
To break it down a bit more, here's why prioritizing redeployment is advantageous for agencies who want (and need) to outpace their competitors and move their bottom line:
Redeployment enhances your talent pipeline. In today's competitive hiring environment, a strong talent pipeline is key to meeting client demand. Workers who are ready to leave a position or who are coming to the end of their contract are easy go-to options for quick placement. 

Redeployment saves time and resources. Typically, it's all on the agency to shoulder the financial burden and the time it takes to source candidates. Redeployment eases this burden by skipping the screening process and potentially even save time with onboarding.

Redeployment elevates high-performing candidates.

Candidates who've been successfully placed once have proven hireability, which means they have "what it takes," and necessary skills to satisfy the needs of that role or a similar role again. And if their career path has been tracked, it's telltale if they've been performing exceptionally well. 
How AI Makes Redeployment Quick and Painless

At a time when historically low unemployment rates and high-demand hiring needs have come together to make work seemingly impossible for recruiters, adding increasing redeployment to a recruiter's already full plate could mean disaster for staffing agencies. 
It's easy to think that leveraging redeployment is the one and done solution to boosting ROI, but it could just be the straw that breaks the recruiter's back. The answer to doing more work without adding more work for recruiters, is to turn to AI solutions. They will boost a staffing agency that's stretched thin and to achieve a high-volume, high-touch business model.
Like magic, AI technology was made to automate the recruiting process. AllyO is a solution that's a fast, cost-effective way to manage relationships with employees and candidates. A solution like AllyO relies on reaching employees where they want to be reached, on their mobile device, to develop a consistent and ongoing feedback process. This way of communicating benefits players on both sides of the equation. 
Here's how AllyO can simplify redeployment: 
By improving the onboarding process.

Three out of five candidates

report experiencing a bad onboarding process, which in turn affects how future redeployments perceive their relationship with the employer and the staffing agency who facilitated the hire. By standardizing and streamlining the onboarding process prior to a worker's first day on the job, AI can automate and create a better candidate experience, which can turn into higher retention rates and a higher chance for redeployment (if the opportunity presents itself).

By tracking new hire check-in points. Thanks to proactive text messaging capabilities, AI chatbots are scalable solution to facilitating new hire check-ins. It's easy to schedule 30-day, 60-day, and 90-day messages to evaluate new workers' progress and their level of engagement. Apart from being a useful retention tool, this kind of information gathering can also give staffing agencies a pulse on potential flight risk candidates for redeployment.

By creating a delightful candidate experience. The most successful staffing agencies know that in a candidate-driven market, nothing is more important than fostering positive relationships from unsuccessful applicants to high-performing hires. AI not only helps staffing agencies achieve the holy grail of high-touch recruiting (a 100% response rate), but it can also create a distinctly human-like experience thanks to natural language processing. Together, are the pillars that build a delightful candidate experience, getting workers excited for redeployment when the time comes.

By keeping tabs on the talent journey.

In the same space as new hire check-ins, AI makes it possible to scale contacting large volumes of employees at once to track their talent journey. It's never been easier to keep track of promotions, new job titles, improved skill sets, and more, giving agencies an updated database that's prime for redeployment opportunities. 
Interested to know more about how AI can increase ROI and also become a valuable resource for staffing agencies? Download the 'End-to-end AI Technology: the Gamechanger in the Staffing Industry' eBook.