Speed, you know it as the quintessential indicator of success for staffing agencies. But in 2020 where there's record-low unemployment rates and hiring predictions approaching 10-year highs, it's time to pick up the pace pace and, more importantly, efficiency. Your agency has work to do meeting basic client demand, there are key components separating you from other agencies that are far ahead of the competition. 
Those are the agencies that can eliminate friction within the business and close leads the fastest. Sound about right?
They didn't get to the top alone, though. It's innovation in the form of technology that's made the biggest impact in their ability to convert candidates from hundreds (even thousands) of applicants to enthusiastic hires. That technology is conversational AI, like AllyO, that leverages text message recruiting tactics and natural language processing to keep leads engage and moving through the funnel as fast as possible. 
Why Text Recruiting has Better Open Rates, Response Rates, and Response Times
What's not surprising is that every single person in America owns a cell phone, with 1 in 5 people completely depending on their mobile device for internet access at home. 
What you might not know is that almost every one of those people who has a smartphone checks all of their text messages (open rates are in the 90th percentile), with one-third of those regularly responding. Compare that to email open rates (18%) and response rates (8%). 

It's easy to see why it's more than twice as likely that staffing agencies who send texts will respond to candidates in less than 5 minutes. Texting instead of sending an email becomes a no-brainer. What becomes even more obvious is that recruiting without a mobile-first approach is a massive oversight and a huge missed revenue opportunity.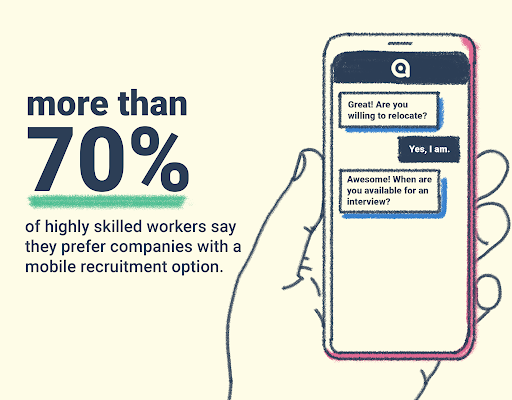 Top-ranking staffing agencies have already done the math and are watching the numbers add up in their favor. They close leads almost 8 days faster, and every one of these agencies use text messaging more frequently throughout the recruiting lifecycle than their competitors who aren't as text savvy. 
Why AI Paired with Text Recruiting Decreases Time to Place
If you're one of the staffing agencies struggling to balance the demands of high-volume recruiting with today's candidate experience best practices, you should know about how AI is used together with text messaging. AI can automate your recruiting process, end-to-end; it's the real deal.

But it's not magic, it's a science. Thanks to natural language processing, solutions like AllyO are able to provide candidates with the personal experience they expect, and it automates tedious recruitment tasks (ahem, interview scheduling). It all happens via text message, so you'll be able to reach candidates where they want (on their mobile devices) and when they want (24 hours a day, 7 days a week). 
How Conversational AI Moves Candidates Through the Funnel Faster
On-demand Help, All the Time. Unlike recruiters who are limited by working hours and time constraints, AI can respond to candidates any time, whether it's before the sun comes up or after a business closes its doors for the evening.


Eliminate Bottlenecks Due to Candidate Questions.

There's nothing worse than accepting the fact that a great lead became uninterested simply because a message about company benefits or core values didn't get to them in time. AI can respond in real-time to hundreds of frequently asked candidate questions that deal with everything from work benefits to working hours. 

Automate Interview Scheduling.

There's nothing that monopolizes more of a recruiter's time than interview scheduling. The AI can eliminate the painstaking work of phone or email tag by seamlessly integrating with calendars and taking care of setting up, and when it comes time to confirm interviews for individual one-on-ones and even panel sessions, it does that work, too.

Evaluate Candidates via Screening.

Why waste time on a  phone screen with a promising new candidate only to find out they don't have the right legal status or they fail to meet another basic requirement? AI will do the screening for you by conducting preliminary questions and ruling out candidates who don't have the necessary skills or qualifications for the job.




The traditional application process takes upwards of 17 minutes, with no interview scheduled. The new conversational process takes a candidate from job matching to screening and assessing to scheduled interview in roughly 3 minutes.
Aside from simply giving candidates all access, all the time, the beauty of end-to-end recruiting platforms powered by AI is that they provide the ideal candidate experience.
AI allows staffing agencies to achieve that pie-in-the-sky goal of responding to 100% of candidate inquiries, forever eliminating the black hole of back and forth messaging and giving the opportunity to build real relationships. 
And perhaps best of all, AI manages this seemingly impossible feat of showing every candidate a delightful experience. With the help of conversational psychology, AI has more of a human touch than ever before. 
But don't just take our word for it; the proof is there for you to see for yourself. 92% of candidates report that they're satisfied with their interactions with AllyO, and that's just the beginning. To see how conversational AI could transform your agency from top to bottom, schedule a demo today.