Whether you already recruit internationally or anticipate business growth, AllyO is ready to go global with you. AllyO is able to automate international recruiting wherever WhatsApp or Twilio 2-way SMS is supported. 
AllyO is Multilingual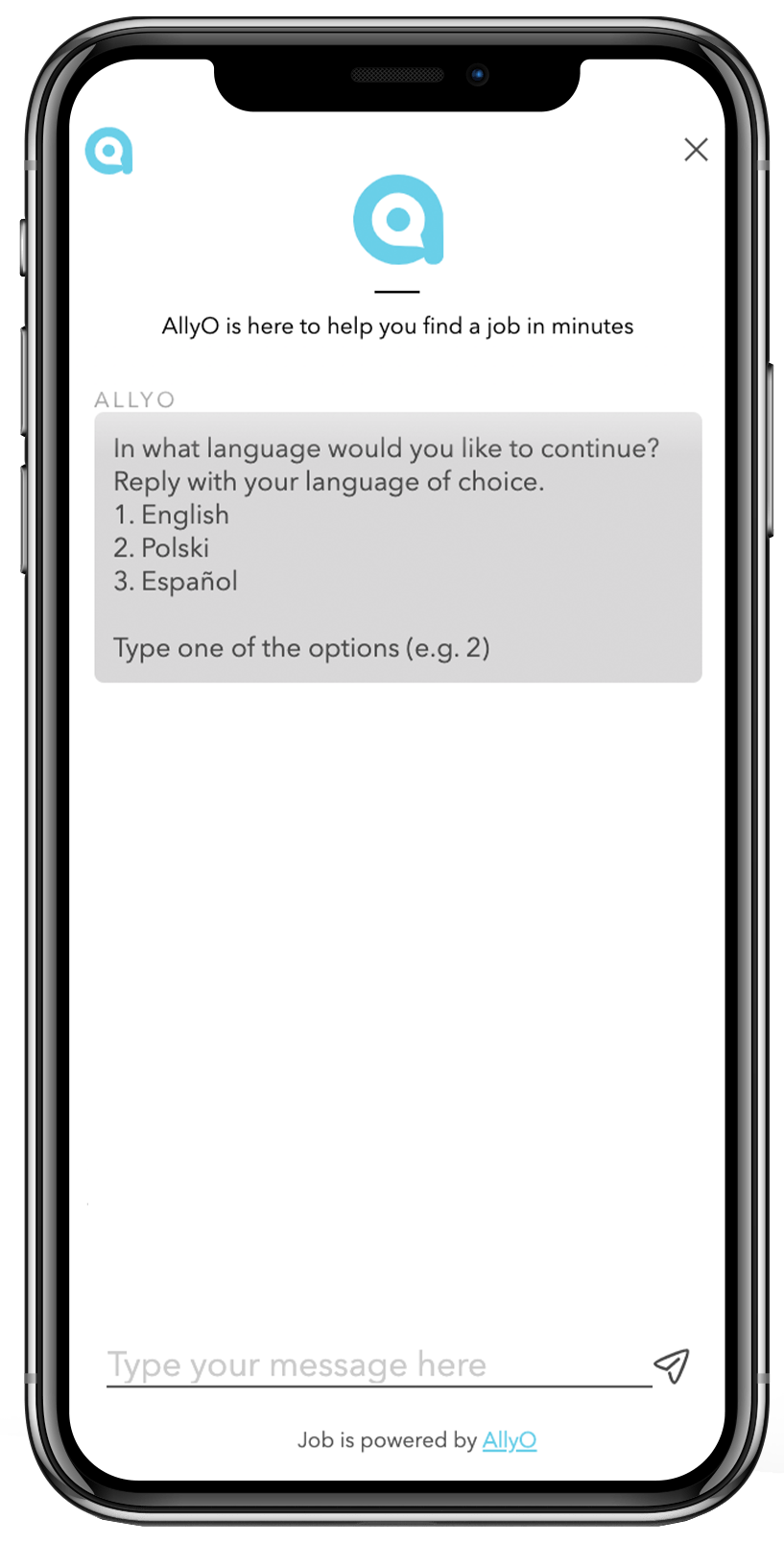 We value communicating with candidates in the language of their choosing, which is why our bot is multilingual. One bot has the ability to offer multiple languages to help you capture the most candidates and deliver the best experience.
AllyO is already used in multiple languages:
✔ French (France and Canadian French)
✔ Spanish (Latin American and Spain)
✔ German
✔ Italian
✔ Brazilian Portuguese
✔ Polish
✔ Russian
✔ And more!
Don't see a common language among your talent pool listed above? Have no fear, we are always expanding AllyO's available languages, and we encourage you to ask our team about preferred language development. 
However, deploying AllyO in a new language is more than toggling on a translation service and letting things run. We take into account how many unique characters or symbols must be supported (one-byte or two-byte), if reading direction changes, and how your workflows, ATS integrations and dashboards may need to adjust. Most importantly, we train our foundational natural language processing (NLP) so you don't lose your AI-powered chatbot. 
AllyO is Available on WhatsApp
AllyO was the first AI recruiter deployed on WhatsApp in 2018. With 1.5 billion users in 200+ countries, WhatsApp is the most popular messaging app in the world, and a key component of what makes AllyO successful outside of the United States. 
WhatsApp makes international recruiting possible in areas where 2-way SMS is not available. There are also no texting fees for candidates, so you deliver an accessible, positive candidate experience. It's a secure channel too. WhatsApp provides end-to-end encryption, so only the person the chatbot is communicating with can read what is sent. 
What To Consider When Adding International Recruiting
AllyO is already SOC 2 certified and GDPR compliant, but it's important customers considering international recruiting with AllyO determine their data localization and data privacy requirements. Our team is equipped to meet any demands, as we've already partnered with Fortune 500 customers locally and internationally, but the necessary requirements will need to be determined by your organization. 
Interested in learning more about adding I18N to an AllyO RECRUITTM package? Start a conversation with one of our experts.