Dramatically Improve Hiring Workflows Without the Headache of ATS Change Management
Challenges of Traditional Recruiting Workflows
Recruiting top-quality workers in the digital age isn't easy. Changing workforce, demographics, a near zero-unemployment rate, and the adoption of digital technologies create application dynamics where the majority of candidates quit in the middle of a job application, citing complexity and length as primary reasons.
Application form attrition rates are just one example of the recruiting challenges facing organizations today. It gets only worse when it comes to vetting, interviewing, and hiring workers. Recruiters reveal they spend an average of 23.5 hours vetting job applicants for every job opening. And this is after spending only 5 to 7 seconds reviewing each application.
The average job posting generates 250 applicants, of which the clear majority either never hear back from the company nor receive a cursory confirmation that their application was successful. This reservoir of candidates quickly tallies into the tens of thousands or even hundreds of thousands, a pool that all-too-often goes untapped. Yet, almost half of hiring managers indicate they cannot find qualified candidates.
Difficult application forms, cumbersome and inaccurate candidate vetting, and missing communications directly translate into bad candidate experiences: only 15 percent rate their recruiting experiences as positive. And when candidates have bad experiences, it often impacts the employer: 63 percent rejecting a job offer, 72 percent telling others in person and online about their experience, and 64 percent saying they are less likely to purchase goods and services from that company.
Turbocharging the Applicant Tracking System with AI
Enterprises have awakened to the potential benefits of artificial intelligence (AI) and are beginning to embrace AI across business functions, powering revenue growth, customer engagement, operational efficiencies, and other business outcomes. Those failing to adopt AI—including for recruiting—put themselves at a competitive disadvantage and may never catch up.
Cumbersome, time-consuming recruiting workflows create inefficiencies and bad candidate experiences. This is where AI integration with the ATS is the means for making recruiting workflows easier and more efficient and intelligent.
AI means many different things but boils down to the ability of a computer to perform tasks typically associated with humans. Machine learning (ML) is a subset of AI, employing algorithms and statistical models used to progressively improve the performance of a specific task. In the case of the ATS, ML performs pattern matching using natural language processing (NLP), which permits the ATS to communicate with candidates using human language (unstructured data), that enables decision making. This automates tasks such as screening and assessments at scale while re-engaging candidates to uncover career intent and update profile details.
 
Advancing AI Recruiting Benefits Through Deeper ATS Integration
Recognizing the potential recruiting benefits, organizations are integrating AI into their ATS solutions. More than 25 percent of the Fortune 500 either have integrated of AI into aspects of their ATS or they are piloting solutions. Forty percent of companies in a recent poll indicate they are interested in integrating one or more AI capabilities into their ATS. For organizations using AI recruiting, they typically start slowly with AI integration when opting for enterprise-wide deployment, selecting a use case that most closely aligns with their business requirements.
Certainly, the recruiting lifecycle offers numerous AI integration use cases. A fundamental principle of AI integration starts with the ability to use the ATS as the single system of record for all recruiting activities. This provides full transparency of recruiting data and activities as well as seamless handoff across each stage of the recruiting lifecycle.
Getting started is sometimes the hardest part of integrating AI capabilities into an ATS. Understanding when AI integration is truly impactful, the potential use cases, and who and what needs to be involved is critical when an organization embarks on integrating AI into their ATS. Determining what business problems to solve enables organizations to identify which use cases to address with AI integration.
The following are some of the most prevalent use cases:
Uncovering past applicant gems.

The ATS captures applicant details over a historical continuum and offers a rich talent pool that can be mined for potential candidates using NLP and ML to automate candidate conversations on a large scale.

Engaging applicants.

Conversational AI enables organizations to engage and nudge applicants through text and chat conversations across various talent acquisition channels. This enables employers to gather more detail on applicants while keeping them more engaged. Additionally, conversational AI is used to move candidates through the recruiting lifecycle—from applications to onboarding.

Screening and assessing applicants.

ML combined with NLP gives employers the ability to screen and assess applicants faster and more intelligently to match the best candidate to each job opening.

Scheduling interviews.

Automated AI recruiting capabilities find time on interviewer calendars and provide candidates with process guidance to minimize no-shows and poor candidate experiences.

Onboarding new hires.

AI recruiting ensures seamless handoffs between pre- and post-offer hiring to maintain new hire engagement and onboarding processes. Also includes the ability to conduct periodic check-ins with new hires.  Do we want to automate the offer, hiring, and onboarding processes?

Gathering employee referrals.

 Conversational AI automates candidate referral from employees via text or chat and keeps employees updated through weekly referral updates.
Where and How to Get Started
When it comes to integrating AI into the ATS, there are different types of options—some focus on specific use cases while others solve for the entire recruiting lifecycle. Furthermore, not all AI recruiting solutions are the same.  
Choose ease of adoption and minimal change management
The degree of implementation difficulty is one of the foremost concerns for organizations seeking to integrate AI with their ATS. But just as important, if not more so, is ease of adoption and the amount of change management required on the part of end users. If the bar for adoption is set high and significant change management processes—and education of end users—is required, then the likelihood of success is lowered substantially. Seek AI integration use cases where new recruiting capabilities are intuitive and change management is minimized.
Understand the problem(s) being solved
Integrating AI with the ATS is not a "one-and-done" scenario. Organizations also don't need to "boil the ocean" to achieve desired business outcomes. A clear understanding of the most critical recruiting problems provides valuable guidance—both in terms of which use case(s) to tackle and what integration model to employ.
Figure 1. ATS Integration Goals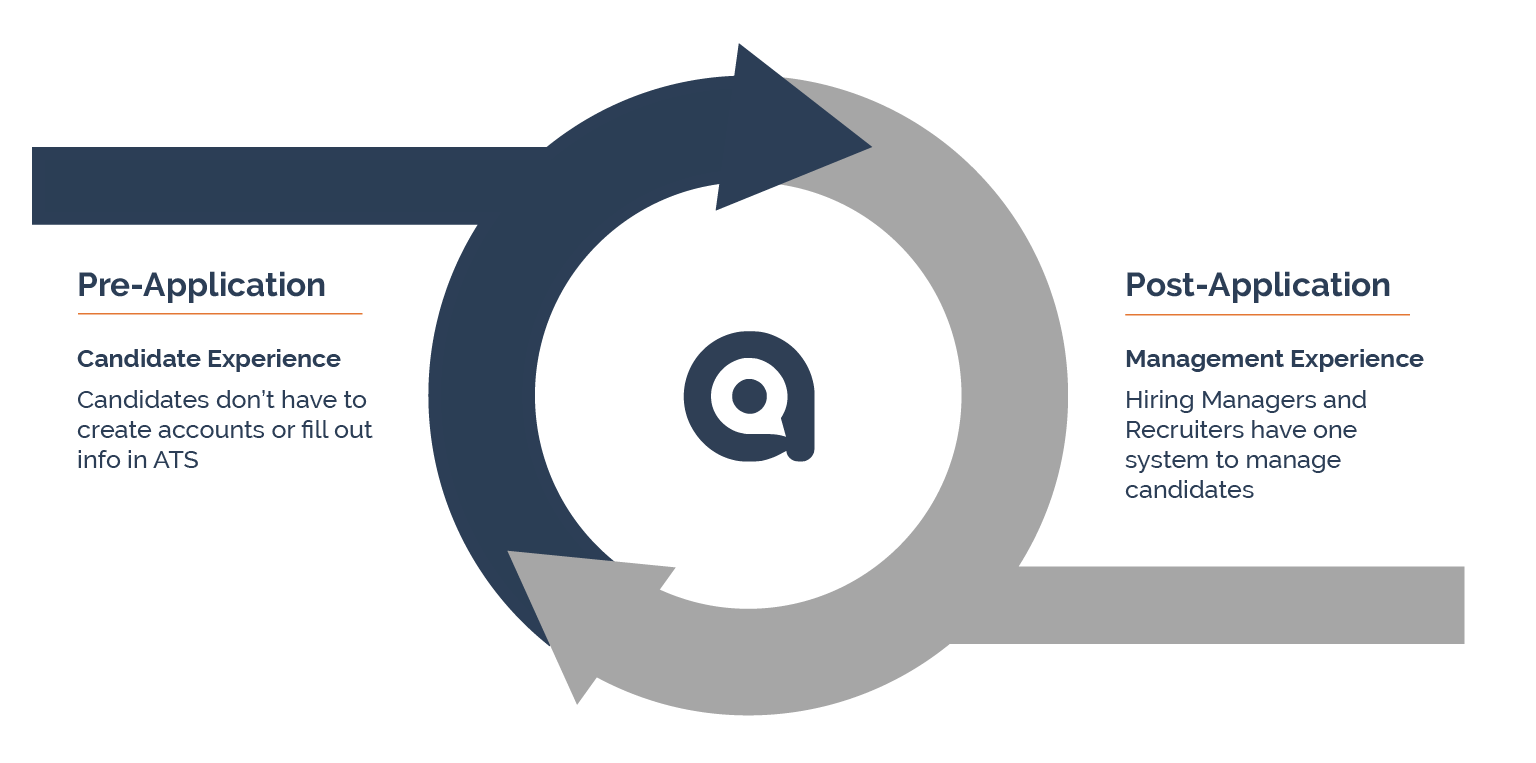 Figure 2. ATS Integration Journey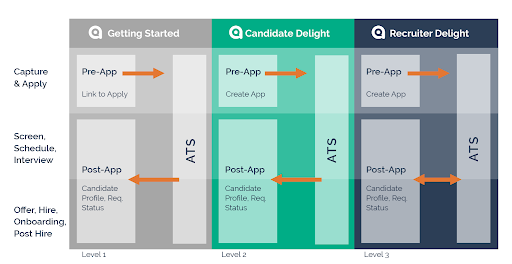 Determine what type of integration is needed
There's more than one option for integrating AI with the ATS. The easiest and fastest route involves flat file batch exports. Applications are captured via traditional forms and fed into the ATS. AI recruiting enables workflows connected to screening and assessing candidates, scheduling interviews, and facilitating new hire check-ins and employee referrals. The second way to integrate AI with the ATS is via REST APIs. In this case, organizations can easily and quickly leverage pre-built APIs.
Figure 3.  Workflow Interface Support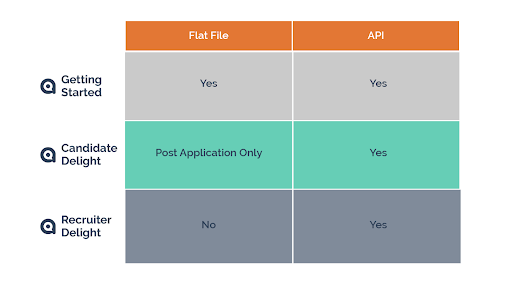 Pinpoint the level of IT involvement
The level of IT involvement varies based on the use cases being addressed as well as the amount of integration required. Thus, organizations must involve their IT team when evaluating AI solutions to determine what integration path should be followed based on the designated use case(s).
Identify security and data controls
As with any IT project, information security is a critical concern when it comes to AI integration with the ATS. New regulations such as the EU's General Data Protection Regulation (GDPR), growing adherence to security standards such as the National Institute of Standards and Technology (NIST), and an ever-evolving threat landscape have increased scrutiny. AI recruiting solutions must have clearly documented security and data privacy controls and reporting. Providers must also have significant experience demonstrating compliance and passing audits and reviews. Finally, AI-enabled data flowing in and out of an ATS must include documented security safeguards and data governance tracking and reporting capabilities.
Focus on the long run and comprehensive capabilities
While conversational AI may satisfy a business' most immediate needs, it may not be the right choice over the long run. Look for an AI solution that covers the entire recruiting lifecycle and encompasses the three pillar AI capabilities: engagement, automation, and intelligence. In the case of most AI recruiting solutions, the focus is on engagement—the use of conversational AI (chatbots). True, comprehensive AI recruiting includes all three elements.
Gaining Integration Clarity
The business opportunities of AI are vast, and it is just beginning to take many business and industry segments by storm.
Aimed at solving real business problems, AI integration with the ATS creates business value in two basic areas—improved candidate experience, and streamlined recruitment management. But before getting started, it is critical for organizations to determine if they are ready. This means they must understand what use cases make sense based on the recruiting challenges they are trying to solve, the level of involvement needed from organizational resources such as IT, and what type of AI integration is required.
>>> Don't forget: Download a printable version of 6 Things To Consider When Integrating AI Recruiting With Applicant Tracking Systems
Integration With Applicant Tracking Systems From Taleo Enterprise, Greenhouse, Lever, ICIMS, PC Recruiter, and Workday
Taleo Enterprise
Oracle Taleo Enterprise Cloud Service has a large market share and AllyO has many customers on Taleo; therefore, AllyO has invested and built a full bi-directional API integration for Taleo to meet the demands for our large customers to minimize change management when integrating a new technology. One large customer in hospitality has been on Taleo for many years and added the capability of AllyO in order to drive their workflows for high volume seasonal hiring. AllyO significantly improved their conversion rate of applicants to hires in a short period of time with no change management required. In another case, a different retail customer wanted to improve the candidate experience in a tough market and improve their application completion rate. AllyO had a significant impact in improving the completion rate by filling out the application upon completing the conversation with AllyO and scheduling an interview. The integration with Taleo improved the candidate experience and the management experience as a result as no change management required and applications were more easily filled out.
iCIMS Recruit 
One of our large customers had their entire organization using iCims for hiring >2000 per week. This means many recruiters are constantly using iCims every day to push candidates through the system. Given the level of hiring, one can imagine that automation of the workflow is required in order to improve productivity given the sheer volume of candidates. Many candidates are being left behind. With AllyO + iCims, this closes the gap by expanding the scale of candidate engagement by 1000x. Imagine filling out an application in iCims and then having to wait until someone gets back to you, with AllyO, candidates are instantly engaged. Furthermore, extra steps with external assessment providers can be monitored and the candidates reminded to continue through the process. AllyO + iCims now improves the candidate experience with a fully integrated bidirectional API driven workflow as well as keeping change management to be minimal.
Workday Recruiting
Workday Recruiting leverages a flat-file based integration called Enterprise Interface Builder or EIB which makes it easy to transfer data back and forth between systems. AllyO has one customer who switched over to Workday and required data to be transferred back and forth between the systems to perform extensive text-based assessments. AllyO received candidate information via the EIB on an hourly basis and stepped the candidates through a text-based assessment. Once complete, AllyO compiled the assessment score across all of the candidates and submitted back to Workday via the EIB. This dramatically improved the conversion rate of applicants to the assessment and in the end improved the conversion rate to hire. AllyO + Workday can also implement many other workflows through the EIB and provide screening and scheduling of candidates to cut down on recruiter administrative tasks. The EIB enables AllyO to do this without having to manage candidates in AllyO cutting down significantly on change management.
PCRecruiter from Main Sequence Technologies
The customer vision for integration is for the ATS to serve as the system of record and improve the recruiter user experience of the hiring workflow and provide more automation. With AllyO + PCRecruiter, recruiters and hiring managers can now use AllyO to manage candidates in the workflow and minimize any time in PCRecruiter while also getting the benefit of AllyO to engage and usher the candidates through the workflow. Once turned-on, AllyO pushed 100s of candidates through the workflow in just a few days and improved the hiring conversion rate while providing a significantly improved hiring manager and recruiter user experience. This was all achieved through bidirectional API integration. Candidates and Hiring managers were easily ushered through the process including automation of placements and closing out positions when there were no more openings.
Lever Recruiting Software
Using a bi-directional API integration model, AllyO supports integration with Lever Recruiting Software to support professional hiring. The integration automatically creates and updates candidates, updates stages, fills-out applications, and schedule interviews with feedback forms directly to your calendar. The customer wanted to integrate since recruiters were spending too much time on screening and scheduling candidates. With AllyO + Lever, the customer can now have all administrative actions performed by AllyO and the recruiters only have to focus on phone screening qualified candidates. This seamless integration is made possible by AllyO's proprietary Active Data Integration Platform that enables data to be actively shared between systems with our AI based recruiter to usher candidates through the workflow.
Greenhouse Talent Acquisition Software
AllyO created a bi-directional API integration with Greenhouse Talent Acquisition Software to support professional recruiting for one of our customers. The integration automatically creates and updates candidates, updates stages, fills-out applications, and schedule interviews directly to your calendar. The customer wanted to integrate since the recruiters were spending 11+hours per day on screening and scheduling candidates. With AllyO + Greenhouse, the customer can now have all administrative actions performed by AllyO and the recruiters only have to focus on phone screening qualified candidates. Furthermore, the management of the candidates in the workflow can be done solely in Greenhouse with no knowledge of AllyO. This seamless integration is made possible by AllyO's proprietary Active Data Integration Platform that enables data to be actively shared between systems with our AI based recruiter to usher candidates through the workflow.
>>>Partnership Inquiries from Applicant Tracking System providers, please complete the AllyO Partnership inquiry form.