How does a small recruitment team efficiently and effectively hire 60 people per month?
National Safety Apparel (NSA), a fourth generation family operated company that designs well-crafted, comfortable, innovative products, ethically and responsibly, has partnered with AllyO to do just that.  A small team of two recruiters, reporting to the VP of HR, Lindsay DesJardins, rely on AllyO to help them capture, screen, and schedule interviews with skilled sewists.
Prior to starting with AllyO, it would take 2-3 weeks for an interview to be scheduled for a candidate at a cost of $30/interview and $75/hire.  Since launching AllyO, the interviews are now often scheduled same-day and the hires are made within a week of application. The costs have reduced significantly as well with cost per interview at $15/interview and cost of hire at $60/hire.  What's more, there are early indications that the retention rates have improved thanks to AllyO. The pre-AllyO retention rate was at 50% with the current one at 60%. NSA is also reporting an improvement to their candidate experience since the hiring process is more streamlined and is easy to use.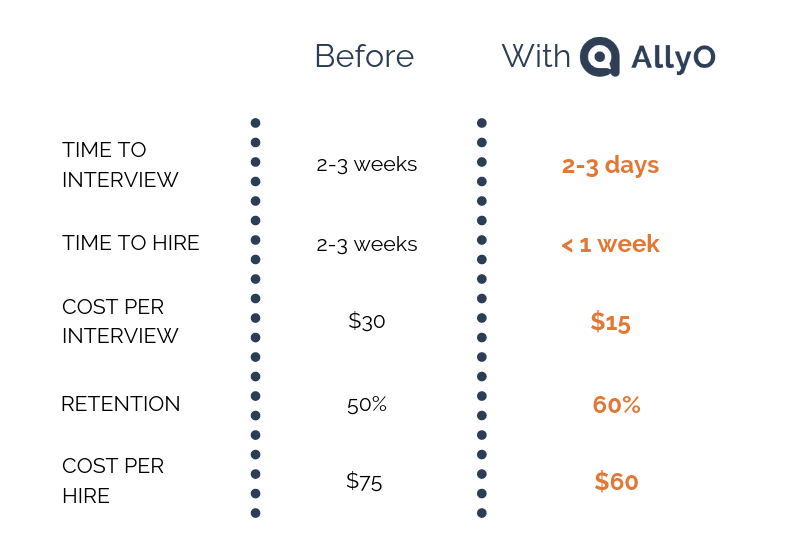 Why NSA Chose AllyO
When Lindsay DesJardins, VP of HR, was asked why she preferred AllyO over other vendors she stated:
"[AllyO is] quick to implement and there was an instant connection with the sales and support team. Customer service and response rates from AllyO have been world class. Ally-O helps us streamline our recruiting process and overall time/ costs involved. Applicants see exactly what we have available and clear on wages, hours, etc. before they even come in to meet us. "
National Safety Apparel also benefited from AllyO's screen and assess feature which allows companies to customize qualifications and screening questions for each role they are hiring for. Data gathered from a candidates conversation with AllyO can be sent straight to recruiters for review, eliminating the need for a screening phone call prior to an interview.
"The scheduling and flexibility to add/delete requisitions is very convenient. We no longer have to call candidates at all, helping us expedite the process of hiring and reduces costs." -Lindsay DesJardins
AI Recruiting Software in Action
When an interested candidate visits National Safety Apparel's career page, they are automatically given two ways to chat with AllyO. They can either text a number to begin a conversation on their phone or chat with AllyO directly on the career page. Instead of candidates having to search through pages of job listings, AllyO presents opportunities that the candidate is qualified for through the chat.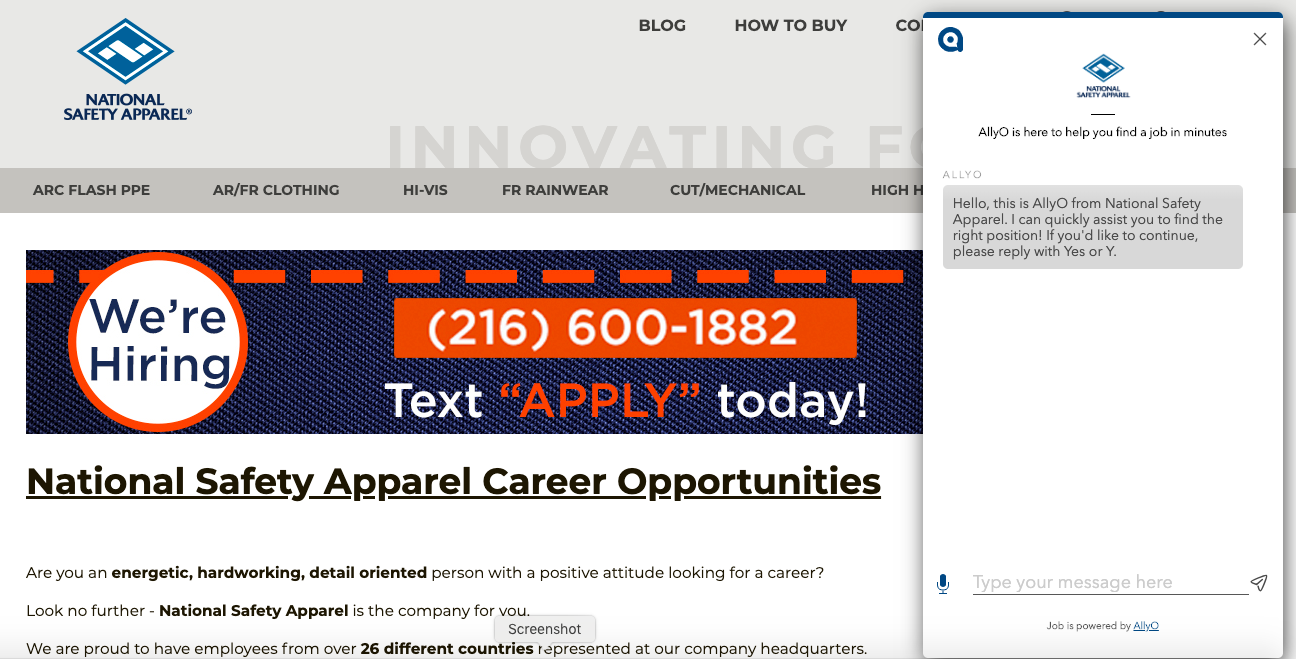 Begin your AI recruiting transformation today and speak with an expert