Goals To Achieve With AI Recruiting Tech
One large multi-state retailer came to AllyO with 4 goals that they wanted to focus on to innovate their current recruiting process
Improve staffing levels across stores
Reduce time-to-hire
Distinguish themselves from their competitors
Give time back to the store managers
Prior to engaging with AllyO, the retailer observed increasing expectations from candidates during the application process. According to their data, hourly workers expect to have an offer within 11 days. Their current time to offer across their locations is 34 days, while the industry benchmark is 30 days to offer. Once AllyO was implemented, the pilot locations reduced their time to hire to 13 days, aligning the stores hiring experience closer with the applicants' expectations. This has set the company apart from its large scale retail competitors.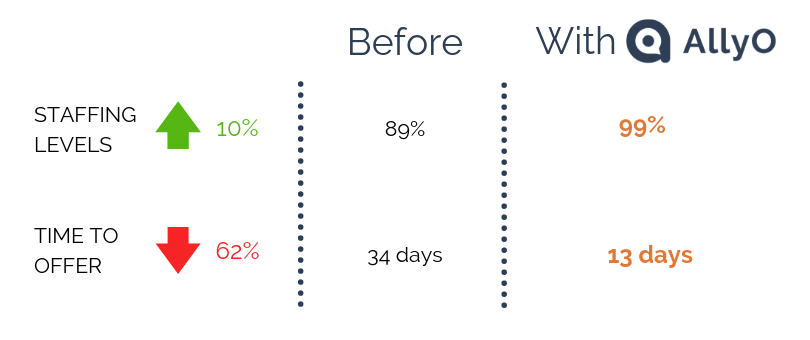 Candidate Experience
As the job market transitions from an employers market to a candidate market, candidate experience has taken priority. This retailer wanted to process candidates efficiently while keeping them informed and happy with the process. We built out a Pre-ATS applicant engagement tool by implementing the floating AllyO chatbot to every URL on their ATS in addition to deploying a pilot-wide marketing campaign for "Text-to-Apply" to help capture walk-ins. The logic behind this is as follows: in the hourly industry, your customers are often time also your candidates. We provided these candidates with a 24/7 recruiter. The initial trial with AllyO was so successful that it was expanded from the initial location within 8 weeks of launching and was expanded nationally within 10 months.
Begin your AI recruiting transformation today and schedule a demo here