America's unemployment rate just hit an all-time low of 3.6 %. This makes speedily hiring enough new talent to meet an employer's human capital requirements a big challenge. One of AllyO's main objectives is to reduce the time to hire as much as possible for our customers. We help optimize efficiency at every step from talent pool engagement to employee referral. One such step in the path that we help our customers with is interview scheduling.
As an example of how AllyO helps employers, let's consider the case of Matt, a restaurant store manager, who just expanded his store due to the recent award the restaurant received. He wants to hire 2 cashiers, 2 washers and 5 servers to meet the sudden surge in demand. Time to hire is very important as Matt's customers have already expressed concerns over long wait times etc. Below are the two paths an employer can follow to hire new employees, one with AllyO, one without.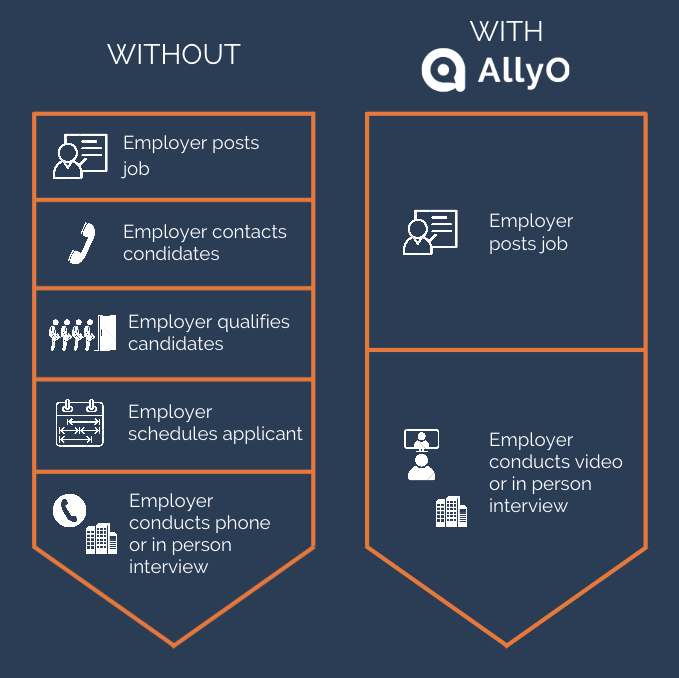 Without AllyO, Matt has to deal with unresponsive applicants and last minute cancellations, rescheduling, and no-shows. He also has to personally complete each step in the recruiting process.
With AllyO, Matt posts a job-ad "Text job to 983-434-4194" and AllyO takes care of all intermediary steps. Because qualified candidates may have difficulty attending an in-person interview and phone interviews can be impersonal, AllyO makes it easy for Matt and candidates to quickly get on a video call to talk face to face about the role and be hired instantly.
Integrated Video Interviewing with AllyO
Of the interviews scheduled by AllyO prior to the launch of our integrated video interview capability, 87% were onsite and 13% were by phone. Interview cancellations, through AllyO, were much more common with onsite interviews than with phone interviews: 16% for onsite vs 3.5% for phone. The higher cancellation rate for the former is due to transportations difficulties.
When you spot a good candidate you want to expedite the process of interviewing and hiring so that you may connect with them before they accept another offer. However, it may be difficult for these candidates to attend an in-person interview because of distance or travel expenses. To solve this problem for both our recruiters/interviewers and candidates, we are delighted to announce one of the most requested features this year so far: Live Video Interview v1.0!
Employers can set up video interviews to be used at any step during their complex recruiting workflow eg: phone -> video -> video ->onsite etc. AllyO sends the link to join the video interview as part of the interview calendar invite to our employers and applicants, so the connection is easy. The best part is there is no need to download any special plugin or software on your machine for our live video to work, the interview simply opens in a web browser. We support most of the latest versions of web browsers.
What does a video interview experience with AllyO look like? View below: