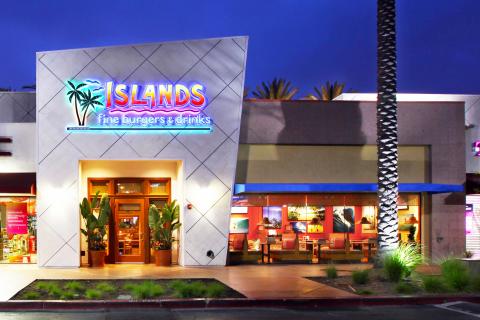 Dine-in restaurants closed their doors at all locations to comply with community requirements in the wake of the global pandemic. The overnight change resulted in many restaurants converting to take out and delivery models. As these location-based businesses fight to stay afloat, the $2.5 trillion driver of the U.S. economy that employs 1 in every 10 workers has suffered 3% of all restaurants announcing that they are closing their doors forever.
As AllyO continues to partner with our customers to address the challenges they're facing, we were impressed by Islands Fine Burgers & Drinks. In their response to the pandemic, they focused on innovation to navigate the challenging environment successfully.
Keeping Employees Engaged
Islands Fine Burgers & Drinks converted from a full-service restaurant to a take out and delivery model.
While these actions were the focus to keep the business going, Meghan Lucas, Recruiter at Islands Fine Burgers & Drinks, also knew it was important to stay connected to staff members and help them through this difficult time.
"The first thing that we launched [during the pandemic] was AllyO ConnectTM to help [mass] text our employees to let them know about programs or things that we are offering that might help them." Keeping employees informed with the latest information in close to real-time enables everyone to stay connected and engaged. According to Lucas, employees shared their gratitude for the direct and timely communication in their text replies to the secure AllyO ConnectTM inbox.
Long-Term Impacts to Their Tech Stack
As Lucas and the Islands Fine Burgers & Drinks team began to use AllyO ConnectTM, they understood the impact of adding the new way to engage employees. Lucas said, "Before, stores would communicate individually to their employees, but now we can communicate all at once and create more unity amongst ourselves that we didn't even know was lacking before."
Lucas has maintained focus on positioning Islands Fine Burgers & Drinks as an employer of choice, and she is already laying the groundwork for Islands Fine Burgers & Drinks to come back stronger by preparing for the following: "How do we still maintain a good business model so that when we do have hiring needs, people want to come work for us? How do we stand out?"
Going Beyond The Typical Use Case
The team at Islands Fine Burgers & Drinks also noticed an opportunity to co-create a Guest Engagement bot with the AllyO team that engages customers via text to alert them of special promotions and safety measures to encourage orders. Text has proven to be the preferred channel for patrons compared to apps and emails, with a 98% text open rate compared to 20% email open rate. 
With the demonstrated success achieved by Lucas and the Islands Fine Burgers & Drinks team, she is encouraging other restaurateurs to use innovation as a guide to get better during this challenging time. "To keep people coming in and wanting to try, you have to mix it up, and you have to try new things. I feel it more now than I did even two months ago."
To get delicious offers and updates for Islands and see AllyO in action, Text "ALOHA" to 86754.