Join AllyO at UNLEASH America where it is the #1 gathering place for all those who thrive on the Work Revolution and HR Technology. UNLEASH attracts an exclusive community of leaders, innovators, influencers and workforce technology buyers helping transformational organizations identify and apply the right technologies and solutions for the Future of Work.
AllyO Presence at #Unleash19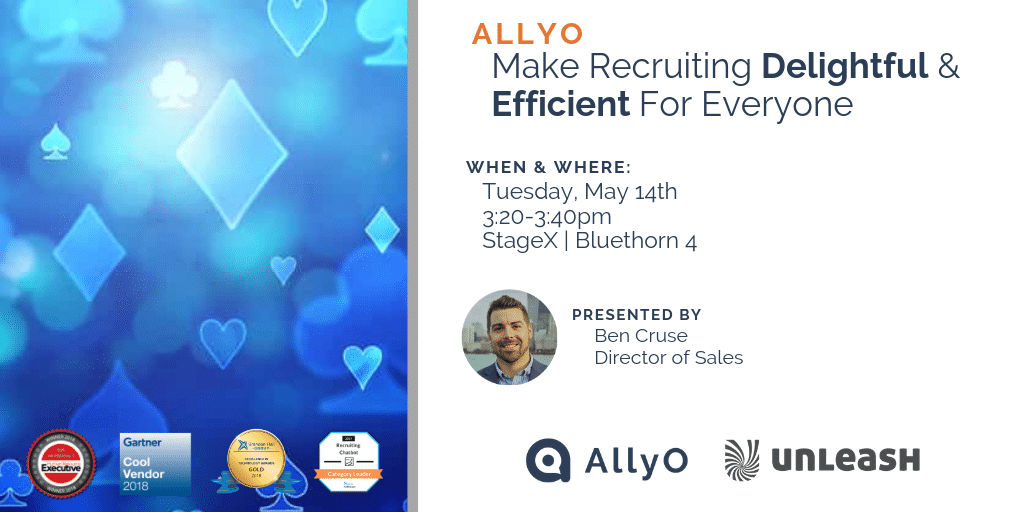 Powered by AI, driven by delight. In our UNLEASH product session "Make Recruiting Delightful and Efficient For Everyone" on May 14th at 3:20pm, you will be taken on a full-cycle recruitment automation journey through the lens of AllyO, the intelligent, interactive digital assistant built for talent acquisition. In today's era of practice AI, learn about unique use cases from large enterprises. About AllyO Presenter, Ben Cruse: Ben has spent 10 years helping shape the recruiting infrastructure of some amazing brands. A specialist in AI, recruitment software, digital media advertising, RPO services, and employment data; he has a BS in Organizational Management from NIU. Ben is an avid reader, coach, ice hockey fan, golfer, and fisherman.
Take a look at the agenda and speakers at #UNLEASH 19 where it has helped shape, shake-up and disrupt the HR industry globally.
Experience AllyO at Booth #402 and learn how to make recruiting delightful and efficient. 
How To Win In Today's Candidate-Driven Job Market
WATCH NOW: AllyO understands the candidate-driven job market and has developed a recruitment strategy to find and retain the best candidates in the market. These 4 strategies will help you automate your hiring process, screen candidates better, and retain employees longer in a candidate-driven market!